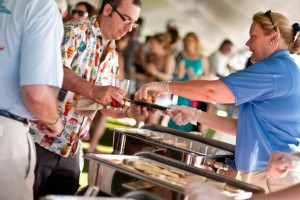 The 8th New Jersey Beer & Food Festival will take place June 25-26 at Crystal Springs Resort at a new location on the corner of Route 94 and Wild Turkey Way. The festival will feature new events for 2016 including a second day of festivities for the first time.
The two day extravaganza offers guests beer tastings under the big tent, a beer and chocolate seminar, yoga with beer tasting, golf tournament and more.
Saturday June 25
9AM – Brews & Birdies Tourney on two of Crystal Springs' award-winning links, Wild Turkey and Ballyowen. The tournament will feature 18 holes of golf and craft beer tastings on 4 different holes. Prizes will be awarded to the winners on each course. Tickets are $195 for Wild Turkey and $205 for Ballyowen. Registration for the golf tournament can be made at GolfGenius.com.
9AM Hoppy Yoga class at the picturesque Crystal Springs Quarry and enjoy a tasting of Schofferhofer Grapefruit ($25) afterwards.
12PM – 2PM – "Chefs & Shorts" Lunch ($45) will be served in the lush Chef's Garden.
12PM – Beer & Chocolate, a fun, interactive seminar and tasting will showcase a wide variety of beers including Keegan Mothers Milk, Atwater Vanilla Java Porter, Atwater Decadent Dark Chocolate Ale, Sam Adams Nitro Coffee and more ($20).
3PM – 7PM – NJ Beer & Food Festival tasting for adults 21 & over only. Under the tent, beer aficionados can sample over 120 beers, including many craft brews, along with delicious BBQ pulled pork, German bratwurst, spit-roasted Berkshire pork and more. Popular cover band Lima Bean Riot returns to play everyone's favorite hits ($75).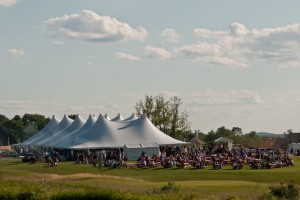 Sunday June 26
12PM – 4PM – NJ Beer & Food Festival family day. Along with being able to enjoy over 120 beers from around the world, families will be welcomed with rides and activities for kids of all ages. There will be a petting zoo, pony rides, three-legged races, face painting in more, while adults can carom off each other playing Knockerball and Human Foosball ($55).
Tickets for Beer Festival events are available at www.njbeerfoodfest.com.
Cheers,
Veronique