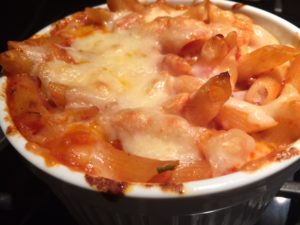 I love recipes that take me all of 10 minutes to prepare and that will serve a few meals during the week. This beyond-easy pasta dish is one of those recipes that I make on Sundays and portion for lunches during the week.
Ingredients:
Directions:
Preheat oven to 400 degrees.
Cook pasta 1 minute short of indicated on the packaging.
Toss the drained pasta into the marinara sauce.
Add the Mozzarella to the pasta and stir to distribute evenly.
Pour the pasta into a medium baking dish.
Top with the shaved cheese.
Place the dish on a baking sheet to prevent oven drips and bake for 25 minutes.
Makes 2 generous entrée-size servings.
Note: I received a sample container of Sartori Cheese that I will now add to my grocery list.