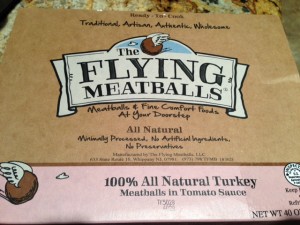 A couple weeks ago, I connected with the fine folks at The Flying Meatballs® on Twitter and shortly after, I was emailed to see if I'd sample some of their meatballs. I've never taste tested meatballs as I think the ones I make at home are pretty much, The Bomb, but this is a local company and its 'hand-crafted' products piqued my curiosity, so I agreed.
The Flying Meatballs offers a line of small batch, authentic Italian meatballs and homestyle comfort foods. The products are sold in stores and can be shipped directly to consumers.
The artisanal Italian meatballs are made from prime, natural cuts of meat and "all-natural ingredients" and use authentic Italian recipes handed down for generations and portioned six to a package with tomato sauce. The meatballs are flash frozen for shipment.
While The Flying Meatballs is a relatively new company founded in 2010, the chef/founder/president and CEO behind the product, Natale Grande, is a member of the Grande family that has owned the celebrated restaurant, Il Capriccio in Whippany, New Jersey, for 40 years. The meatballs have been a perennial menu favorite at Il Capriccio and as a result of clients constantly asking for orders to go, the Grande family decided the meatballs were ideal for selling directly. The Grandes were so confident the meatballs would literally 'fly off the shelves,' they opted for the "The Flying Meatballs" brand name.
There are five types of meatballs available and everything is made from scratch, including the breadcrumbs. Each order consists of six meatballs and is packed with sauce, enough to feed 4-6 people. In my sample pack, I had the following varieties:
100% Premium Beef: $15.00
The Three Meats – beef, pork and veal: $15.00
100% Premium Turkey: $15.00
I decided to do different preparations for each variety.
For the turkey meatballs, I went traditional with perfectly al dente Delverde spaghetti and a generous grating of Romano cheese. The meatballs were incredibly moist and tender and flavorful. They're made of 100% freshly-ground, all-natural turkey meat blended with fresh basil and parsley and Pecorino Romano and Grana Padano. I don't make turkey meatballs at home, so enjoyed these fully.
For the three meats version, I made meatball Parmesan subs. These meatballs consist of equal parts all natural premium beef, pork and veal blended again with Pecorino Romano and Grana Padano. In contrast to the turkey ones, these are denser from the beef but still tender from the pork. They were mild in flavor when eaten without sauce.
For the premium beef ones, I used the Rustichella d'Abruzzo rigatoni that was sent with my sample shipment. These meatballs are made of all natural premium beef blended with the ever present Pecorino Romano and Grana Padano. These are good with beefy flavors but the least moist of the bunch, as could be expected without the complement of fattier meats in the blend.
I admit that the red sauce that meatballs come with is pretty delicious and I think Chef Grande should probably commercialize that next….of wait, he already does!
The Flying Meatballs are sold direct-to-customers through the online store and shipped packed nicely in dry ice. They are also available at deli counters at Kings and Balducci's. Be on the lookout for them.
Best,
Veronique