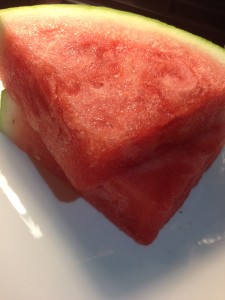 I think it's interesting how the food our parents conditioned us to like or dislike can have a lifelong impact on what we eat.
One such food was the watermelon at our home when I was a kid. Mom didn't like watermelon and thus never served it and I grew up thinking that delicious, refreshing, tasty food was on my 'yucky' list.
Last year,with the craze of all things watermelon in restaurants, I revisited it by error thinking it was a piece of tomato in a summer salad at a party. To my horror, I realized I'd bitten into compressed watermelon instead….but, it was fantastic!
I've been snacking on watermelon since and find new ways to use it in various dishes and cocktails.
Do you have foods you won't touch because your parents told you they were yucky growing up?
Cheers,
Veronique