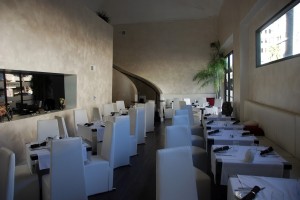 While on a business trip to Los Angeles a few weeks ago, I had the pleasure of dining at Sfixio, an incredible restaurant on Santa Monica Boulevard in Beverly Hills. I found this little gem with a non-descript façade from some fellow food writers who'd discovered it and claimed it's the best Italian food they've outside of Italy.
I arrived early on a weeknight and was warmly greeted by Mara Sampo who manages the front of the house and happens to be Sfixio Chef Massimo Denaro's wife. She immediately made me feel at home and continued to provide above par service that made me less anxious about eating alone. As she sat me in the modern yet welcoming, Milan-inspired white and silver dining room, she proudly stated her husband makes everything from scratch, including the pastas, and that the restaurant didn't even have a freezer. She then asked me why a New York-based foodie would come to an LA Italian restaurant when some of the best Italian restaurants were based in New York. I responded that NY food writers had sent me to Sfixio claiming it to have the best Italian food outside Italy. She was ecstatic about this and asked if I'd be willing to have whatever specials the Chef was featuring that evening – I gladly agreed.
As I sipped a glass of Champagne, Mara brought me a plate of heirloom tomatoes paired with hand-made Burrata, the melt-in-your-mouth fresh Italian soft cheese. A drizzle of some of the finest olive oil gilded the perfect flavors of the sweet tomatoes, fragrant basil, crunchy cucumbers and milky cheese. Simplicity at its very best.
Mara mentioned the Chef's specialty pasta wasn't always available but would be that evening and would I like to try it – spaghetti with truffle and caviar in a light cream sauce. YES!!! As she brought me the elegant plate of perfectly-cooked pasta, Mara said "You'll be thinking about us tomorrow after having this dish". I can't imagine a truer statement. The aroma of truffle was intoxicating and the briny caviar paired beautifully with the light sauce coating the pasta. Could this have been the best pasta dish I've ever had? I believe so.
For dessert, I enjoyed Italian bread with a side of the stellar olive oil that was previously drizzled on my Caprese salad, simple end to a most lovely dinner.
When in Los Angeles, make a point of paying husband and wife duo Massimo Denaro and Mara Sampo a visit. If you think an authentic, beautifully-prepared Italian meal can't be found outside of Milan, Florence or Rome, you'll feel differently after Sfixio.
Sfixio – 9737 Santa Monica Blvd., Los Angeles, CA 90210. 310-385-1800.
Cheers,
Veronique