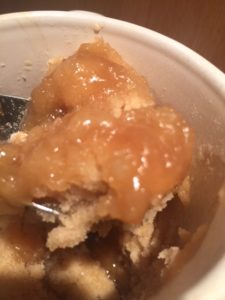 For those of you not familiar with pouding chomeur (unemployed man's pudding in French), it's a majorly sweet, decadent, comforting and easy-to-make dessert that originated from Quebec.
Pouding chomeur is cakey on the surface and gooey, carameley on the bottom. It became popular in Quebec during the Great Depression and was typically made in a large baking dish to feed a ton of people using stale bread.
I was craving this delish dessert last night but didn't want to make my usual large-format recipe, so I searched for a single-serve recipe and found one for a version made in a mug (what's not to love about that). It came out perfect! I need to reiterate that it's beyond sweet and really should be served with vanilla ice cream.
Ingredients:
3 Tbsp. all-purpose flour
1 Tbsp. brown sugar
¼ tsp. baking powder
1 pinch of salt
1 Tbsp. butter, softened
2 Tbsp. whole milk
3 Tbsp. maple syrup
1 Tbsp. water
Directions:
In a 1 ½ cup mug, add the flour, brown sugar, baking powder and salt. Stir to combine with a fork. Add the butter and stir until the batter is crumbly. Add the milk and stir until mostly smooth.
In a separate small bowl, combine the syrup and water. Pour over the batter in the mug.
Place the mug on a plate, in case of spills, and microwave for 1 ½ minutes. Allow to cool 5 minutes before topping with a scoop of vanilla ice cream and eating.
Makes 1 servings.
Cheers,
Veronique
Adapted from this recipe.