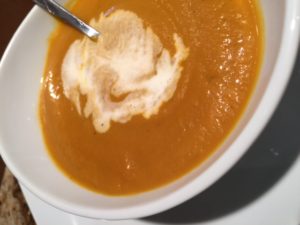 Simmering soups on my stovetop on Sundays are back! This week, I had some carrots leftover and thought that could pair well with the butternut squash I'd just gotten at the market – orange on orange!
This soup is made with vegetable both but could be made with chicken broth also for a non-vegetarian version. Don't worry about the size of the chop on your vegetables, all these ingredients, once cooked, will be put through the blender.
This soup would rock at your Thanksgiving table as it can't be done the day prior, refrigerated then reheated on Turkey Day.
Ingredients:
2 Tbsp. vegetable oil
1 medium Spanish onion, chopped
3 carrots, chopped
1 medium butternut squash, chopped
1 tsp. each salt & pepper
½ tsp. dry sage
4 cups vegetable broth
2 bay leaves
½ cup heavy cream, optional
Directions:
In a heavy saucepan over medium-high heat, sauté the onion, carrots and squash for 15 minutes in the oil, stirring occasionally.
Lower the heat to medium-low and add the seasonings, broth and bay leaves. Simmer, partially covered, for 45 minutes.
Purée with an immersion blender until completely smooth, about 3 minutes. Alternatively, add the soup to a blender and puree until smooth, about 1 minute. Return the puréed soup to a clean saucepan and gently heat for 2 minutes.
Add the cream, if using, and warm for 2 minutes.
Serve in warm bowls with a teaspoon of cream, optional.
Serves 6 as a starter or 4 as a main course.