Crystal Springs Resort is hosting two events showcasing local foragers and a local brewery in August. The first event, Foraging Trip & Dinner, takes place on 8/16 and the second, Angry Erik Brewery Dinner, happens on 8/20. The Crystal Springs Chef's Garden, a wood-fire outdoor restaurant surrounded by a lush one-acre organic garden, will be the location of both dinners (see a recent article I wrote on the gorgeous Chef's Garden).
8/16 Foraging Trip and Dinner
Crystal Springs Executive Chef, Anthony Bucco, works closely with Sarah Berman and Corey Finck of Sussex County foragers to bring locally-foraged goods to the resort's Restaurant Latour twice each week. On 8/16, guests will be able to participate in a foraging expedition with Chef Bucco and the folks at Sussex County Foragers. Upon returning from foraging, guests with make their way to the Chef's Garden to enjoy cocktails and canapés prepared with ingredients foraged on the trip, This will then be followed by a four-course dinner by Chef Bucco paired with local wines.
Foragers Dinner Menu
Chanterelles/ NJ Corn / Basil
Lubina/ Plankton / Purslane
Mangalitsa Pig/ Wood Sorrel / Stone Fruit
Chocolate/ Anise Hyssop / Wine Berries
The foraging trip and dinner costs $115 including food, wine and transportation to the foraging location and back to Crystal Springs (tax & gratuity additional). Foraging trip begins at 4pm followed by dinner at 7pm. Reservations can be made by calling 855-977-6473.
8/20 Angry Erik Brewing When We Were Kings Dinner
On 8/20, Crystal Springs will host a dinner showcasing Angry Erik Brewing beers in the Chef's Garden. The dinner will feature seven different beers including The Dainty Viking, an elderflower blonde ale; Hop-n-Awe double IPA; and Mary Shroom, a mushroom and rosemary saison.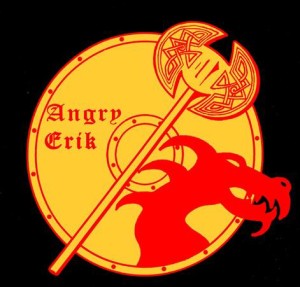 The event will begin at 6pm with passed canapés and cocktails made with Angry Erik beers, followed by a four-course, beer-paired dinner crafted by Chef Anthony Bucco.
Angry Erik "When We Were Kings Dinner" Menu
Heirloom Grains – tomatoes / cucumbers / dill (Paired with Angry Erik Two– Shoe Brew, Copper Ale)
Day-Boat Scallops – grapefruit / coriander / corn (Paired with Angry Erik Hop-n-Awe)
Roasted Duck – mushrooms / pine / wild blueberries (Paired with Angry Erik Mary Shroom)
Chocolate – coffee / yogurt / lavender (Paired with Angry Erik Freaky Freydis)
Dinner costs $65, inclusive of food and beer tastings. Reservations can be made by calling 855-977-6473.
Cheers,
Veronique