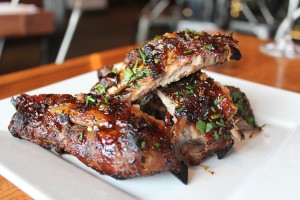 While I have my go-to ribs recipe, I'm always looking for new ideas and variations from the old standard. This recipe, provided by Executive Chef Josh Bernstein of Spuntino Wine Bar & Italian Tapas, puts a bit of an Italian spin on the backyard BBQ favorite.
Ingredients:
Rib Spice Rub:
1/4 cup dried basil
1/4 cup dried oregano
1/2 cup paprika
1/2 cup garlic powder
1/2 cup onion powder
1/2 cup ground fennel seed
3/4 cup dark brown sugar
1 cup kosher salt
2 Tbsp. red pepper flakes
2 Tbsp. ground black pepper
Balsamic BBQ Sauce:
2 cups balsamic vinegar
1-1/2 cups ketchup
3/4 cup dark brown sugar
1 Tbsp. fresh chopped garlic
2 Tbsp. Worcestershire sauce
2 Tbsp. Dijon mustard
1 tsp. Kosher salt
1/2 tsp. ground black pepper
Ribs:
4 racks of baby back ribs
1 cup rib spice rub
2 Tbsp. chopped Italian parsley
1 cup balsamic BBQ sauce
Method:
For the Rib Spice Rub:
Place all of the ingredients into a bowl. Mix well. Keep in an air tight container for up to 3 weeks. This recipe will make more than needed for the ribs. It is a good marinade for other meats as well.
For the Balsamic BBQ Sauce:
Combine all of the ingredients in a sauce pot. Bring to a boil. Reduce the flame and simmer for 45 minutes. Stir every 10 minutes. Strain and cool.
For the Ribs:
Spread the spice rub evenly over the ribs. Wrap each in aluminum foil. Allow to marinate overnight in the refrigerator for at least 12 hours. Place the ribs, still wrapped in aluminum foil, into a 350 degree oven for 2 hours. At this point you can cool them down and refrigerate up to 7 days or freeze for up to 2 months. If not, brush the ribs with the BBQ sauce and place onto a hot grill. Cook until the sauce is hot on the ribs. Cut into 1-2 rib portions and garnish with parsley.
Serves 4.