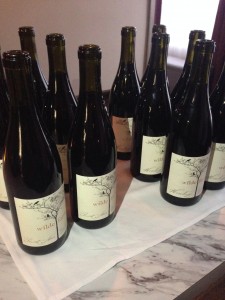 Thursday night, I had the pleasure of attending the Wilde Farm wine dinner at Montclair's Fascino. Chef Ryan Depersio's food was beautifully paired with Wilde Farm wines to create a delicious culinary adventure.
Loren Grossman, the owner of Wilde Farm, was in attendance and provided insightful information about the wines he produces with famed winemaker Pax Mahle. The pairings went as follows:
Course 1
2013 Rosé North Coast
Island Creek Oysters with Watermelon Granita
Course 2
2012 Chardonnay Brosseau Vineyard Chalone
Crab Stuffed Zucchini Flower with Red Chili Aioli
Course 3
2012 Pinot Noir Donnelly Creek Vineyard Anderson Valley
House Cured Duck Prosciutto with Compressed Melon, Whipped Ricotta, Aged Balsamic
Course 4
2012 Heritage Bedrock Vineyard Sonoma Valley
Bone Marrow Crusted Filet Mignon, Potato Puree, & Broccoli Rabe, Roasted Garlic Jus
Course 5
2012 Heritage Bedrock Vineyard Sonoma Valley
Chef's Selection of Artisanal Cheeses, Fig Terrine, & Fresh Fruit
The wines are approachable and as food-friendly as one can hope for. I recently reviewed the sold out Rosé and will fully review each wine savored at this dinner in a future post.
For information about future wine-paired dinners at Fascino, follow the restaurant on Facebook.
Cheers,
Veronique