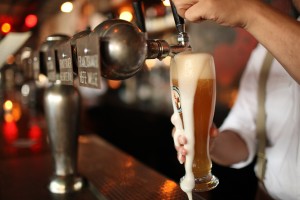 New Jersey's top two Biergartens kick off spring with Maifest, a month-long celebration featuring special menus, live music and bier (of course)!
The celebrations at Hoboken's Pilsener Haus and its sister biergarten Asbury Festhalle kick off with keg-tappings and live music the weekend of Friday May 7th, and running through May 31.
Throughout the month, Pilsener Haus' Chef Martin Schaub and Chef James Avery of Asbury Festhalle will offer very special Maifest menus featuring Roasted Suckling Pig, Schweinshaxen (roast pork shank), special spaetzles, salads, and desserts. See the Festhalle menu here. See the Pilsener Haus menu here.
Domestic and imported Maibock beers will be the special seasonal offerings during MaiFest: the maibock style is a helles lager brewed to bock strength, but lighter in color and with more hop presence. It is a refreshing beer, frequently associated with springtime and the month of May. NJ brewer Ramstein's Maibock and premium imports Hofbraü and Hacker-Pschorr will be available. There will be a special Ramstein keg-tapping at the Saturday May 7th Hoboken kickoff, along with the popular masskrugstemmen (mug-holding contest).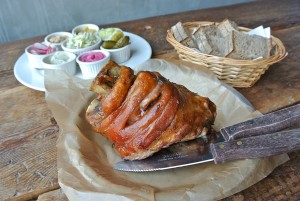 At Pilsener Haus, guests can also toast Springtime with a Radler de Blanche de Brussels, a housemade lemon sorbet/beer cocktail. Music is as much a part of MaiFest as the food and beer; located in towns with reputations for music, each biergarten has staked its place as a venue with unique weekly offerings. Maifest performers will include the biergarten-friendly Adlers; 4-time Grammy-nominated Polka Family Band and their old-school party music; New York's Bavarksi, Pennsylvania rockers John Stevens & Doubleshot, and Mountain Xpress (see attachment for schedules).
Asbury Festhalle will also hold a StrasseFest (street festival) under a giant bier tent the weekend of May 20-22, with stein-carrying, best lederhosen/dirndl contests and more live music. A Maifest Bier Run will commence at 10am, Sunday the 22nd, with prizes for male and female winners.
Asbury Festhalle & Biergarten – 527 Lake Avenue, Asbury Park NJ. (732) 997-8767.
Pilsener Haus & Biergarten – 1422 Grand Street, Hoboken NJ. (201) 683-5465.
Prost!
Veronique