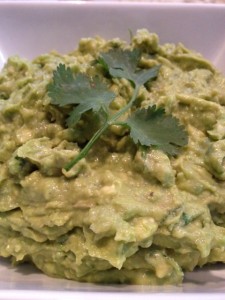 Avocados are one of my favorite foods and I often whip up a batch of guacamole to use as a dip or as toppings for fish, chicken and even burgers.
Ingredients:
2 ripe avocados
1/4 cup diced tomatoes
2 Tbs. diced red onion
1 Tbs. chopped jalapenos
1 clove of garlic, minced
1 Tbs. lemon juice
1/2 tsp. fresh lime juice
1/4 tsp. Tabasco sauce
1/2 tsp. ground cumin
salt and pepper
Directions:
Slice avocados in half and remove the pit and the skin.  Mash avocados with a fork until there are only small lumps.  Stir in remaining ingredients; mix well.  Cover tightly and chill for 2-4 hours. Serve with tortillas.
6 Servings