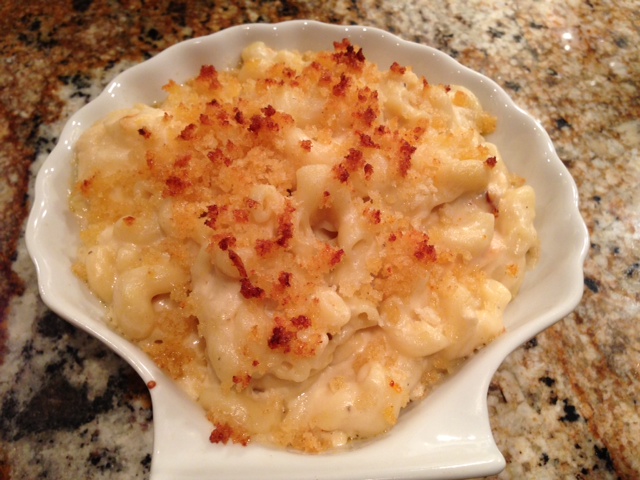 Last weekend, I was looking for a dish to add to my collection of tasting menu dishes that everyone would love. Yes, this dish is rich, decadent and pretty over-the-top, but if served as a degustation portion, it'll be satisfying while not being over-indulgent.
Poached Lobster Ingredients:
2 – 8 ounce lobster tails, uncooked, shell removed, each tail cut in 2 pieces lengthwise
8 tbsp (1 stick) butter
Pasta Ingredients:
4 tbsp butter
4 tbsp all-purpose flour
1/2 tsp each, salt and pepper
1 cup heavy cream
3 cups whole milk
2 cups extra sharp Cheddar cheese, freshly grated
2 cups Fontina cheese, freshly grated
1 ounce dry porcini mushrooms, reconstituted in 1 cup hot water, drained, then chopped
1 pound elbow macaroni, or other tubular pasta, cooked 2 minutes less than recommended in package directions, drained
Topping Ingredients:
2 tbsp butter
3 tbsp panko bread crumbs
1/4 tsp cayenne pepper
Heat oven to 400 degrees.
Poached Lobster Directions:
Melt butter over low heat in a small saucepan.
Add lobster pieces and cook for 5 minutes, ensuring to baste with butter.
Remove from heat and allow to cool, then chop lobster into large bite-size chunks.
Pasta Directions:
Place butter in a large saucepan and melt over medium heat. Add flour and cook for 2 minutes, whisking constantly. Season with salt and pepper.
Stir the heavy cream and the milk into the butter/flour mixture and bring to a boil. Reduce heat to a simmer and cook for 3 minutes, whisking often.
Slowly add the cheeses, a handful at a time, and stir until fully incorporated. Add chopped porcini and cook 1 more minute.
Add the drained pasta to the cheese sauce and mix well. Gently fold in the cooked lobster meat.
Add cheesy pasta to a 13×9 baking dish.
Topping Directions:
Microwave butter in a small dish for 45 seconds. Add panko and cayenne pepper and stir to incorporate the butter and create a crumbly mixture.
Sprinkle panko mixture over pasta in an even layer.
Bake pasta for 15 minutes until panko mixture has lightly browned. Serve at once.
Makes 6 servings.
Notes: I used a 1 1/4 pound South African lobster tail instead of two smaller ones. Use what is available in your market. For those of you not familiar with reconstituting porcini mushrooms, simply add the dry porcini to a small bowl then pour 1 cup of hot water on them. Let them sit for 20 minutes, then drain them, paper-towel them dry and rough chop them into bite-size pieces.