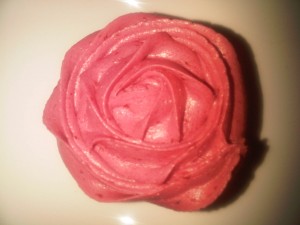 Ingredients:
10 ounce bag of frozen blackberries, thawed
1 cup butter, softened
1/2 cup shortening
1 tbsp pure vanilla extract
1 pound box powdered sugar
Directions:
Using a blender, puree the blackberries.  Pass the puree through a sieve, discard the seeds left behind and set seedless puree aside.
In the bowl of an electric mixer, cream the butter and shortening until fluffy, about 1 minute.
Add the vanilla and the blackberry puree to the butter mixture and mix until homogenous, about 2 minutes.  Add the powered sugar, 1 cup at a time, until fully incorporated.
Use to frost an 8-inch cake or 12 cupcakes.