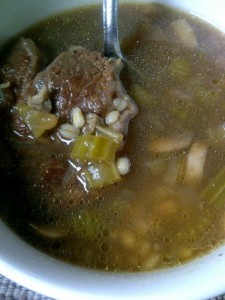 Today's a rainy, gloomy day where I live and weather like this always causes me to crave a warm, hearty soup.  While at the grocery store, I found beautiful center cut beef shanks that screamed to be used to make beef mushroom barley soup.  Here's the simple recipe for this comforting dish.
Ingredients:
3 Tbsp. vegetable oil
3/4 pound beef round/chuck, cubed
1 pound beef bones (ideally with marrow)
1 medium Spanish onion, chopped into small dice
5 celery ribs, chopped into small dice
1 pound Cremini mushrooms, sliced
1 tsp. dried thyme
1/2 tsp. each salt and pepper
2 32-ounce cartons of beef broth
1/4 cup dry Marsala wine or white wine (optional)
3/4 cup barley, rinsed in cold water
4-inch long piece of Parmesan rind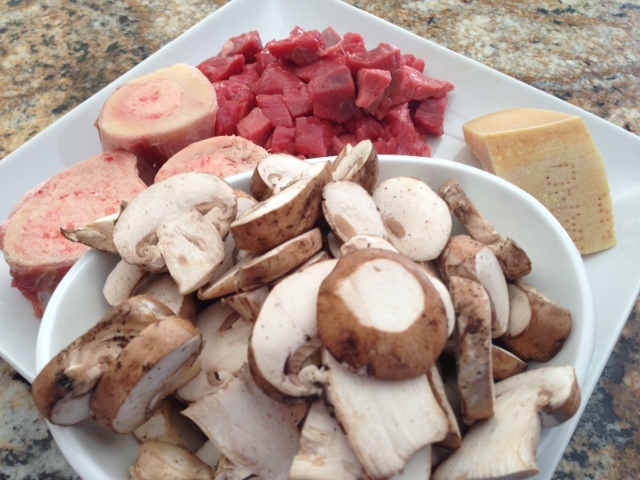 Directions:
Pour the oil in a large, heavy pot over high heat, and heat up for 30 seconds.  Add the beef and the bones and cook for 2 minutes, or until browned.
Add the onion and celery to the beef in the pot, reduce heat to medium-high heat and cook the vegetables for 4 minutes.  Add the mushrooms and cook and additional 3 minutes.
Add the spices, the broth and the wine, if using.  Bring the heat to low and simmer partially covered for 20 minutes.
Add the barley and the Parmesan rind, if using, to the pot and simmer partially covered for another 30 minutes over low heat.
Remove and discard the bones and serve.
Makes 6 servings.