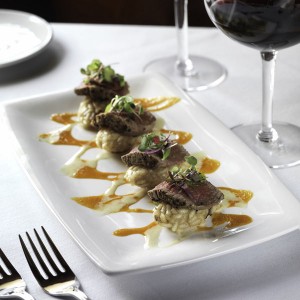 Some news for my Chicago friends, Fleming's Prime Steakhouse & Wine Bar has a new small plates menu offering the following dishes that sound amazing:
Sliced Filet Mignon on shiitake risotto, chili oil, drizzled with porcini butter
 Jumbo Shrimp Scampi Skewers with Chimichurri dipping sauce and avocado citrus salad
New Zealand Petite Lamb Chops with pistachio-mint pesto, "F-17" sauce, and polenta fries
Ahi Tuna Skewers with wasabi aioli, sweet tomato vinaigrette, and homemade wonton chips
New Bedford Scallops with Meyer lemon-honey glaze, baby carrots, green beans, and asparagus
Filet Mignon Skewers with gorgonzola-bacon fondue, mozzarella and sweet tomato salad
Fleming's Lobster Tempura with soy-ginger dipping sauce, arugula, jicama and apple salad
I love the idea of sharing multiple dishes with my friends.  It's an affordable way to sample several dishes and Fleming's small plate prices range from $15.50 to $22.95.
Fleming's two Chicago-area locations can be found at: 25 E. Ohio St., Chicago; 312/ 329-9463 and 960 Milwaukee Ave., Lincolnshire, Ill.; 847/ 793-0333.
Cheers,
Veronique