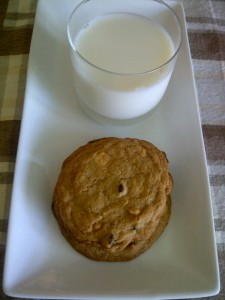 I'm sort of picky about cookies.  Some cookies I like crispy and crunchy and some I enjoy soft and chewy.  This past weekend, I decided to combine two of my recipes to create a crispy AND chewy cookie.  My tasting panel (ten warehouse workers at my office) really liked the results.
Ingredients:
3 cups all-purpose flour
1 1/2 teaspoons baking soda
1 1/2 teaspoons salt
2 sticks (1 cup) butter, softened
1 cup light brown sugar
1/2 cup dark brown sugar
1 cup granulated sugar
3 large eggs
2 tsp. pure vanilla extract
1 cup semisweet chocolate chips
1 cup white chocolate chips
1 cup butterscotch chips
Directions:
Preheat oven to 375 degrees.
In a medium bowl, whisk the flour, baking soda, and salt.
In the bowl of an electric mixer fitted with a paddle attachment, cream the butter and sugars on high speed until light and fluffy, about 3 minutes.  Add the eggs to the butter mixture, beating well after each one, until fully combined, about 1 minute.  Add the vanilla.  With the mixer on low speed, add the flour mixture – do not overmix.  Add the chips and mix until just combined.
Line four cookie sheets (see notes) with parchment paper.  For each cookie, scoop one tablespoon of batter, place on a cookie sheet and flatten gently with the palm of your hand.  Eight cookies will fit on one each cookie sheet.
Bake, two sheets at a time, until golden, about 13 minutes.  Allow to cool for 5 minutes on the cookie sheets then transfer cookies to a cooling rack and continue baking cookies using cooled cookie sheets.
Makes 32 cookies.
Notes:  Don't have four cookie sheets?  No sweat, cookies bake two cookie sheets at-a-time, so simply bake the first two sheets of cookies and bake a second batch of two sheets once the first ones are done.  You can use 1 ½ cups of light brown sugar if you don't have dark.  Feel free to use different chips combinations based on your preferences.  You could also replace ½ of chips with ½ cup of chopped nuts to create texture.