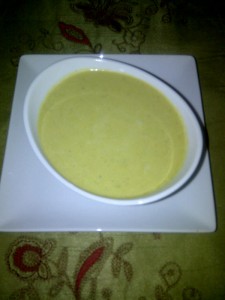 This comforting soup is perfect on a cold day and it is super simple to make.
Ingredients:
3 one-pound bundles of fresh asparagus, chopped into 1 inch pieces
3 Tbsp. olive oil
2 Tbsp. vegetable oil
1/2 medium Spanish onion, chopped into 1/2 inch dice
1/2 tsp. each dried thyme, ground nutmeg, salt and pepper
32 ounce container chicken broth
1/2 cup heavy cream
8 ounces sharp Vermont Cheddar cheese, grated, (like using Cabot Seriously Sharp Cheddar)
Directions:
Heat oven to 375 degrees.
On a large rimmed baking sheet, coat the asparagus with olive oil.  Roast in the oven for 30 minutes, or until softened.  Set aside for use later.
Add the vegetable oil, the onion and the spices to a large, heavy saucepan over medium-high heat.  Cook stirring frequently for 5 minutes.
Add the roasted asparagus and the chicken stock to the onion mixture in the pot.  Simmer partially covered for 15 minutes over medium-low heat.  Add the cream and warm for 2 minutes.
Working in two batches, add the soup to a blender and puree until smooth, about 1 minute.  ***Be sure to remove the small venting cap from the blender to allow steam to come out and place a kitchen towel to cover the opening.
Pour the pureed soup in a clean pot, add the cheese and gently warm over medium-low heat for 2 minutes or until the cheese has fully melted.
Serves 8 as a starter or 6 as a main course.
Note: Dress the soup with a light drizzle of heavy cream for an elegant touch.