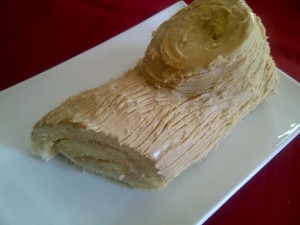 Growing up, my Grandma made jelly roll cake all the time.  A favorite was the vanilla cake with raspberry jam tucked inside and confectioner's sugar lightly dusted over.  Every Christmas, our family shares a Bûche de Noël, in recent years, it has been purchased because nobody has wanted to tackle making it from scratch.  This will be the first Christmas we spend without Grandma and I have decided to bite the bullet and make our family's Yule log.  Here is a version I might use, unless I have a chocolate craving.
Ingredients:
4 eggs at room temperature
2/3 cup granulated sugar
1 Tbsp. Grand Marnier
Zest of an orange
3/4 tsp. pure vanilla extract
1/4 tsp. salt
1 cup cake flour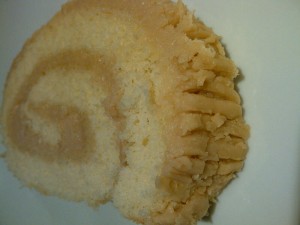 Directions:
Preheat oven to 400 degrees.  Coat an 11×17 jelly roll pan with cooking spray.  Line the pan with a sheet of parchment paper and coat the paper with additional cooking spray.
Using a stand mixer, beat the eggs for 5 minutes, until light and fluffy.  Add the sugar, Grand Marnier, zest, vanilla and salt and beat for another 2 minutes.
Add flour in quarter cup additions, incorporating with a rubber spatula very gently. Do not over mix!
Spread the batter evenly into the pan and bake for 10 minutes.  Wait 3 minutes and remove the cake from the pan and onto a large kitchen towel dusted with confectioner's sugar.  Peel off the parchment paper.  Wait 2 minutes and roll the shorter side onto itself using the kitchen towel as a guide until a tight roll is created.  Chill rolled cake for 30 minutes then unroll the cake gently, removing the towel as you go.
Spread 1 cup of frosting on the cake in an even layer then roll back into a tight log.  Cut a 2-inch piece at one end of the cake at an angle and place atop the cake to create a branch stump.  Frost the outside of the cake, including the stump, run a fork over the surface of the cake to create mock bark then refrigerate until ready to serve.
Serve 10.