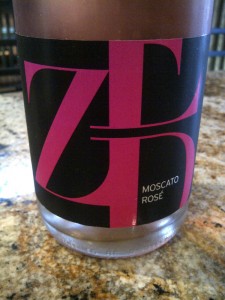 If you read this blog, you'll have figured out that I love rosé and sparkling wines.  I just find them perfect as an aperitif or with many foods and one can typically find a favorite at an affordable price.
The winemakers at Australia's Jacob's Creek have developed an easy-drinking, affordable sparkling rosé that is certain to please most palate.
In the glass, ZED Moscato Rosé is pale pink and simply festive in appearance.  On the nose, it offers maraschino cherry / strawberry aromas.  In the mouth, the wine is a little sweet with nice acidity and note of raspberry and Asian pear.
As I was enjoying a glass of ZED, I began thinking how nice it would be used in a cocktail.  Out comes the shaker with a shot of good quality Vodka, a slash of Triple Sec and a squeeze of lime – delicious!
Just a pretty wine that's tasty on its own and delicious in a cocktail.
Style: Rosé
Grape Type(s): Moscato
Region: Australia
Around $15
This wine was provided to me for sampling and I am adding to my repertoire as it is truly enjoyable.