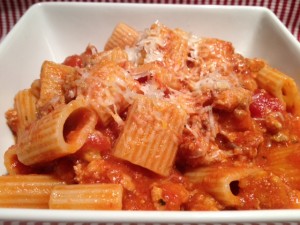 This easy-to-make sauce will develop flavors as it cooks then sits, so prepare it in the morning, let it simmer for 30 minutes or longer and then let it develop flavors as it cools.  Simply reheat it in time for dinner.  Nope, the maple syrup and the Marsala are not typical to Bolognese, but they add a special touch and make this sauce taste like no others.
Ingredients:
1/4 cup olive oil
2 medium carrots, finely diced
1 medium onion, finely chopped
3 garlic cloves, finely minced
3/4 pound ground pork
3/4 pound ground veal
3/4 pound ground beef (20% fat)
2-28 ounce can Italian-style tomatoes, chopped
1/2 cup Marsala wine (red wine would be great also)
1 Tbsp. pure maple syrup (could substitute with 1 tablespoon of granulated sugar)
1/2 tsp. each, dry oregano, basil, black pepper and red pepper flakes
1 tsp. salt
1 pound tubular pasta, rigatoni works well
½ cup pasta cooking water (optional)
½ cup whole milk (or light cream)
1 cup freshly-grated Parmesan cheese
Directions:
Heat olive oil in a large, heavy-bottom saucepan or Dutch oven over medium-high heat.  Add carrots, onion and garlic and sauté for 2 minutes.  Reduce the heat to medium, and cook until vegetables have softened, about 5 minutes, stirring occasionally.
Increase heat to high, add meats and sauté until no longer pink, about 5 minutes, stirring occasionally.
Add tomatoes, wine, broth, maple syrup and the spices and stir well.  Reduce heat to medium-low and simmer, stirring occasionally, for at least 30 minutes, and up to 2 hours.
Boil pasta to al dente.  Before draining, add a ladleful of pasta cooking water (about ½ cup) to the sauce.  Add the milk to the sauce and stir to combine – reheat if needed.
Add the drained pasta to the sauce and stir gently to coat it.  Serve with freshly-grated Parmesan cheese.
6 Servings.
Notes:   This sauce freezes very well, so feel free to double up the recipe!