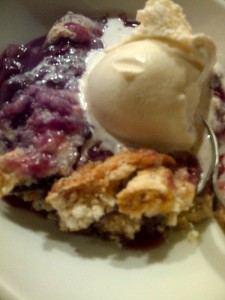 Like many of you, I'm a huge fan of Pinterest (http://pinterest.com/foodwinechickie/).  I love getting home remodeling ideas, learning about new wines, looking at gorgeous travel photos and of course, checking out new recipes.
Last week, I found a recipe so ridiculous yet brilliant that, although I'm embarrassed to publish it, I couldn't help but do so because it takes 60 seconds to prepare and it's really pretty good.
Ingredients:
2 16-ounce bags frozen mixed berries
1 box white or vanilla cake mix
1 12-ounce can lemon-lime soda (I used Sprite)
Directions:
Preheat oven to 350 degrees.
Coat a 13×9 pan with cooking spray.
Place the frozen berries in the pan in an even layer.
Sprinkle the dry cake mix over the berries.
Pour the soda over the cake mix WITHOUT stirring.
Bake for 45 minutes and serve with vanilla ice cream.
Notes:  You can switch the type of berries you use or try the cobbler with frozen peaches.