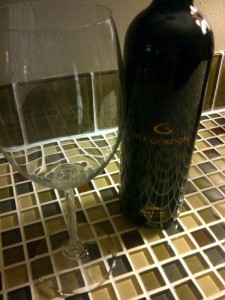 I participated in a virtual tasting last night hosted by Jeff Gordon Cellars featuring its Cabernet Sauvignon, Merlot and Syrah blend named Joie De Vivre. For those of you who have not taken part in a social media wine tasting, this is what it entails:
Buy a bottle of the themed wine, in this case, 2008 Jeff Gordon Cellars Joie De Vivre.
Gather with friends to share the experience or just put your JPs on and get in front of the computer.
Sip and share your thoughts about the wine with other tasters from around the world. Cool no?
Back to the wine. The Cabernet is from Corbett Vineyards Spring Mountain, the Merlot from Solari Vineyard Calistoga and the Syrah from Page Nord Vineyard Yountville. Only 254 cases were produced, so get your thirsty hands on a bottle if you want to try it.
In the glass, it is dark purple and has me decanting half the bottle for later comparison. The nose is intense with aromas of ripe raspberry and juicy cherry exploding out of the glass. Ripe cherry, juicy stone fruit and dark berries flavors with a spice and smokey finish. The decanted wine has a lovely earthy flavor and the young tannins round up for a smooth mouthful.
Pairings:  Grilled beef, cured meats and cheese platter, pasta with red sauce.
Style: Red
Grape Type(s): Cabernet Sauvignon, Merlot and Syrah blend
Region: Napa Valley, California, USA
Price: $61
I am grateful to have been invited to sample this celebrity wine that, as seldom happens, turns out to be quite great.
For additional information about Jeff Gordon Cellars and its wines, visit: www.jeffgordonwine.com.
Cheers, Veronique
This wine was provided to me for sampling and I am adding to my repertoire as it is truly enjoyable.