Last night, the Northern NJ Wine MeetUp Group had a gathering at Spuntino Wine Bar in Clifton. This diverse group of wine fans meets about every six weeks at various places in northern New Jersey. I've belonged to the group for about three years and the events are always fun and insightful. I've written about Spuntino in the past, so I was pleased when I received a notification that the November event would be there.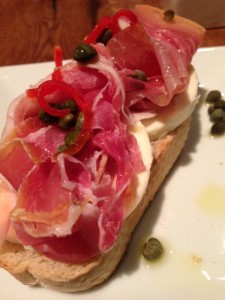 Our group of about 30 members, including friend and fellow New Jersey food and blogger Peter Conway of Mano A Vino, met for drinks in the spacious bar area then met in a private room near the open kitchen. Spuntino's Sommelier, Jane, graciously walked us through the extensive menu and wine list. The restaurant offers forty two Italian wines by the glass, over one hundred Italian wines and a reserve wine list with several gems I'd like to sample.
When I say the menu is extensive, I mean it! Spuntino features a tapas menu, small plates meant to be shared. My party sampled a plate of Salumi and Formaggi, cured Italian meats and cheeses served with perfectly grilled crostini that was perfect paired with our first bottle of wine.
Bruschetta come in nine variations (one for $3, three for $8 and five for $14) and our table tried the Prosciutto di Parma and fresh Mozzarella version. The Italian bread was grilled to a crunchy exterior while the interior was still moist. We also sampled the Carciofo – flash-fried artichoke hearts served with a tangy lemon aioli.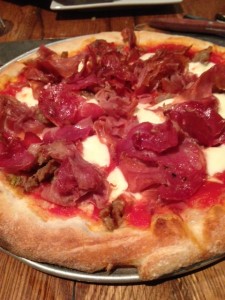 Meatballs ($6) are king at Spuntino and last evening, we opted for the lamb variation. The three meatballs were served with a Parmesan wafer and were good, albeit a bit bland.
There are five pastas ($8) on the menu and on this visit, we devoured the pasta with wild boar ragu. The sauce was rich and flavorful and the pasta was topped with freshly-grated Parmesan cheese.
The pizzas are thin-crusted and hand-stretched and the meaty Salumi ($11) topped with Prosciutto, crumbled sausage, Capocollo and Cacciatorini made it to our table, once again.
If you've not experienced Spuntino, make a point to visit soon. It serves delicious, affordable food and the wine list would please any fan of the grape.
Spuntino Wine Bar & Italian Tapas
94 Kingsland Road
Clifton, NJ, 07014
(973) 661-2435
HOURS
Friday and Saturday: 11 a.m. – 1 a.m.
Sunday: 11 a.m. -10 p.m.
Monday –Thursday: 11 a.m. – Midnight.