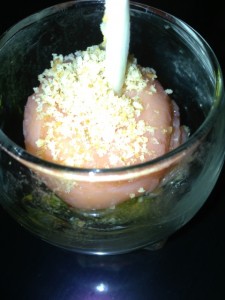 I ran across Chef Eric LeVine's Smoked Salmon Lollipop recipe when compiling my New Year's Eve dinner menu. I liked the idea of an upscale amuse-bouche that's simple to create and can mostly be crafted in advance. I took a short cut by simply using bagels chips to create the 'bagel dust'.
Ingredients:
10 ounces smoked salmon
8 ounces cream cheese (don't use the 'soft' kind)
2 Tbsp. green onions sliced thinly
1 tsp. capers
2 tsp. lemon juice
½ tsp. lemon zest
½ tsp. each salt and pepper
10 lollipop sticks (can be found at craft stores or Bed, Bath and Beyond)
Directions:
Pulse the bagel chips in a food processor until they are finely ground, about 30 seconds. DO AHEAD: Bagel dust can be made in advanced and stored in a zip top bag for up to a week.
Combine 6 ounces of smoked salmon, cream cheese, scallions, capers, lemon juice, zest and salt and pepper in a stand mixer with the paddle attachment until ingredients are combined. Refrigerate until firm, at least 2 hours.
Roll the chilled mixture into 10, one-inch balls. Place on a sheet pan lined with parchment paper and put back into the refrigerator to firm up, at least 4 hours. DO AHEAD: Can be done up to this point two days prior to serving if covered in plastic wrap.
Cut the remaining 4 ounces of salmon into 10 julienne strips and wrap around each of the cream cheese-salmon balls.
Push lollipop sticks into smoked salmon balls. Sprinkle a generous pinch of bagel crumbs over the lollipops just before serving.
Makes 10 lollipops.