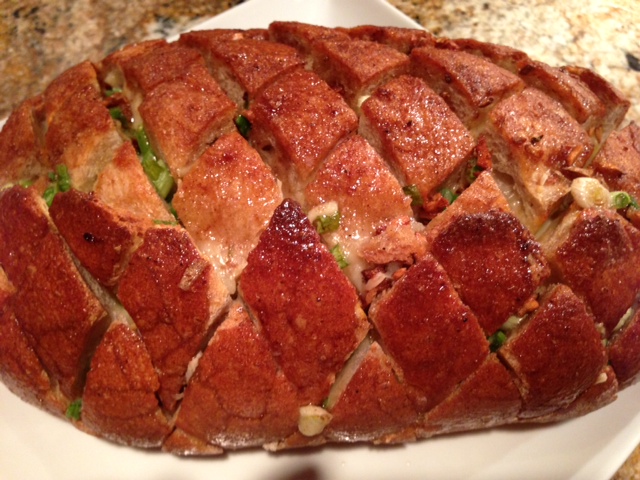 Pull apart bread seems to be all the rage on Pinterest. When my girlfriends visited last week from Florida, I decided to host a cheese-themed dinner party since all of us are cheese aficionados. What could be a better idea than to serve cheesy and garlicky pull apart bread?
The fun part of this bread dish is that guests can help prepare it and then everyone shares it. The ingredients that can be featured in this type of bread are endless. In my mind, the more cheese the better. Here's the easy technique to get it done:
Take one loaf of oblong or round bread, like a sourdough loaf, and cut it into a diamond pattern nearly all the way through. Place the bread on top of two large sheets of aluminum foil then place onto a baking sheet.
Add sliced or grated cheese into the slits in the bread. Use any combination of cheeses that melt well that you have on hand: Cheddar, Fontina, Gruyere, Monterrey Jack, etc…
Melt a stick of butter in a sauté pan and cook 2-3 garlic cloves that you've minced for a minute over medium heat. Add a pinch of salt and pepper and ½ teaspoon red pepper flakes. Pour the butter mixture into all the slits and over the surface of the bread. Top the bread with chopped scallions and/or bacon bits.
Cover the loaf with more foil then crimp the pieces of foil the bread's laying on with the top piece to create a sealed pouch for the bread.
Bake at 400 degrees for 10 minutes. Remove the loaf from the oven, take off the top foil and return to the oven for an additional 10 minutes until the surface of the bread is toasty brown and cheese is melted.
Serve the loaf while hot and have your guests "pull apart" pieces of cheesy, garlicky bread.
Enjoy!