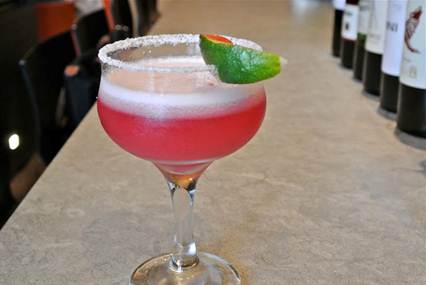 Today is National Margarita Day which means it's one of the very best days of the year (plus it's a Friday – doubly great).
The Orange Squirrel, which has a great mixology program (AKA they pour a mean cocktail) offers this spring-minded version of the classic.
2 oz. Prickly Pear Puree
1 ¼ oz. premium Silver Tequila
½ oz. Triple Sec or Cointreau
½ oz. of lime juice hand squeezed (strain pulp)
Mix all ingredients, pour over ice, shake, strain and serve over ice. Salted or unsalted rim as desired.  Garnish with lime wedge.
For those of you who still haven't made it to The Orange Squirrel, what's the matter with you!? Here's a reminder of my last visit.
412 Bloomfield Avenue, Bloomfield, NJ (973) 337-6421.