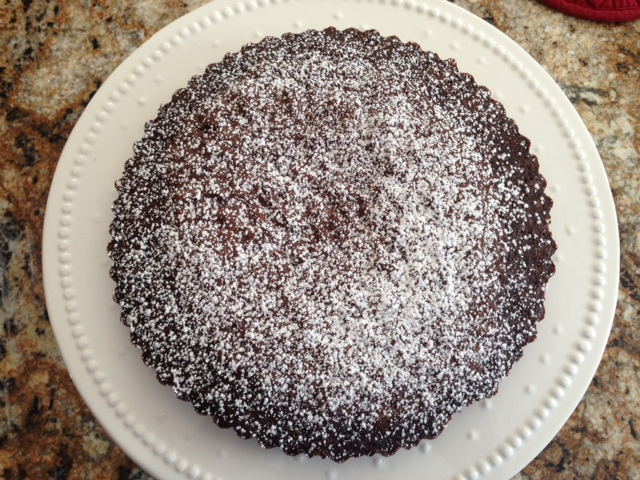 I love a richly-chocolaty cake. This cake doesn't have fancy frosting or 3 cake layers, it's simply dense, moist chocolate decadence. Yeah, I know I'm calling it "flourless" when it has a tablespoon of flour in it – what can I say?
Ingredients:
1 Tbsp. butter, softened
1 Tbsp. cocoa powder
3 large eggs, separated
1 tsp. granulated sugar
4 Tbsp. butter, cut in a few pieces
3 ½ ounces bittersweet chocolate, chopped
½ cup plus 1 Tbsp. powdered sugar
½ cup almond flour*
1 Tbsp. all-purpose flour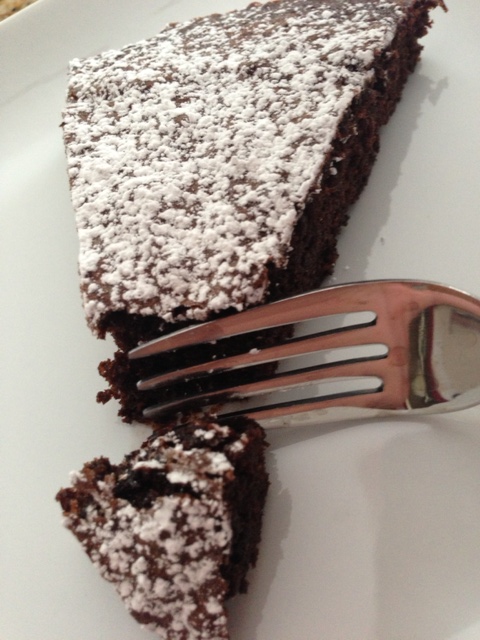 Directions:
Preheat oven to 350 F degrees.
Butter an 8-inch fluted tart pan with a removable bottom and dust with cocoa powder.
In the clean bowl of an electric mixer, beat the egg whites with the teaspoon of sugar until medium-stiff peaks form, about 3 minutes.
In a medium bowl, microwave the butter and the chocolate for 60 seconds, stirring after 30 seconds. If the chocolate isn't fully melted after 60 seconds, heat for up to an additional 30 seconds, stirring after 15 seconds.
Using a hand whisk, add the egg yolks, one at a time, to the chocolate mixture. Add the ½ cup powdered sugar, the almond flour and the all-purpose flour to the chocolate mixture and whisk to fully combine.
Gently whisk 2 tablespoons of the egg whites into chocolate mixture to lighten it. Using a rubber spatula, gently fold the remaining egg whites into the chocolate – do not over mix as the batter will deflate.
Pour the batter into the tart pan and bake for 16 – 18 minutes or until a toothpick inserted in the center of the cake comes out mostly clean with a few moist crumbs. Let the cake cool for 15 minutes then loosen it out of the tart pan. Dust with powdered sugar.
Serves 8.
Notes: Almond flour should be relatively easy to find at your local grocery store, but if not, don't fret! Here's an easy way to get ½ cup of almond flour for this recipe: Add 1 cup of whole, unsalted almonds to a small food processor and pulse until the almonds are very finely ground. Push the ground almonds through a fine sieve.