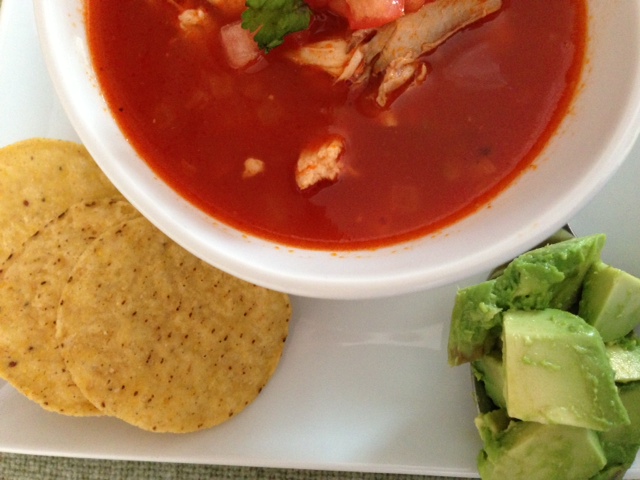 My guy loves chicken tortilla soup and orders it anytime it's on the menu at a restaurant. Me, I love the tangy lime and cilantro flavors of this soup but not the quick-to-turn-limp tortillas floating in the soup. Compromise – tortilla chips served on the side that can be added to the soup…or not. I've made this with leftover roast chicken and store-bought rotisserie chicken and don't see much difference.
Ingredients:
¼ cup vegetable oil
1 medium onion, chopped into small dice
1 medium jalapeno peppers, chopped into small dice
2 garlic cloves, minced
½ tsp. each, salt, pepper, chili powder and cumin
Pinch cayenne pepper
½ cup chopped cilantro
48-ounce can chicken broth
28-ounce can chopped tomatoes
½ cup fresh lime juice
1 small plain deli chicken, meat pulled off the bones and shredded
Diced avocado, optional
Tortilla-style chips, optional
Direction:
Over medium-high heat, in a large heavy saucepan, heat oil for 30 seconds. Reduce heat to medium and add the onion and jalapeno pepper and cook for 5 minutes, until vegetables have softened, stirring frequently.
Add the garlic, salt, pepper, chili powder, cumin, cayenne and cilantro. Cook for 2 minutes, stirring frequently.
Add the broth, tomatoes, lime juice and chicken and simmer for 20 minutes.
When ready to serve, pile some shredded chicken in the center of a bowl and ladle soup around it. If using, serve with a side or avocado and tortilla chips.
Makes 6 servings.