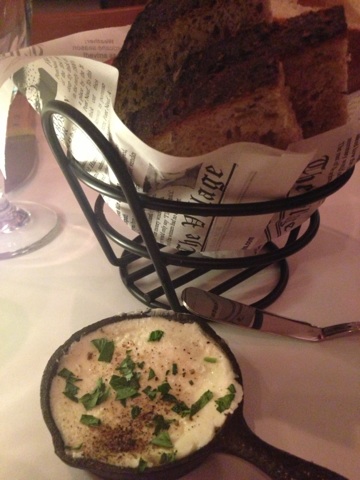 When he owned Epernay from 2000 – 2006, Chef Mark Papera was beloved by Montclair diners. After he sold and moved away, what was once a cozy place to devour a great meal was no longer. To the delight of northern New Jersey foodies, Chef Papera is back in the space previously housing Epernay, and this time, he's not going anywhere. "Former clients of mine come in and tell me I can't ever leave again. I tell them I'm back where I belong", says Papera.
The menu at Fricassée reads like many French bistros but the food is superior to any I've enjoyed outside Paris. One Plats du Jour, daily specials, sounds better than the next: Monday – Chateaubriand, Tuesday – Cassoulet, Wednesday – Bouillabaisse, Thursday – Cotes de Boeuf, Friday – Pot au Feu and Saturday – Boeuf Bourguignon.
Our meal began with three kinds of bread with herb butter presented in a mini cast iron pan. I don't eat much butter, but when I do, I want it to be Chef Papera's butter – herbaceous and lightly salty.
Our starters were outstanding: beef tartare and mussels. The tartare was fresh and actually tasted like beef, which appears to not be something so easily accomplished by other bistros. The portion of mussels was gigantic and offered a very flavorful white wine, garlic and cherry tomato saucy broth bursting with thyme, basil and mint flavors. I highly recommend this dish, especially with the crusty bread served at Fricassée.
We dined on a Thursday and the Cotes de Boeuf for two was absolutely delectable. Chef Papera shared that the meat purveyor he used to secure the unusual cut of beef from at Epernay is once again providing it for Fricassée. The beef is seared to a gorgeous crusty exterior and was served rare, as ordered, with a beefy, rosemary-laced jus. It's just an outstanding dish.
Don't pass up the sides at this place. The frites served with garlic aioli are what French fries should taste like and the Gratins de Macaroni, dressed up mac & cheese, is creamy and rich. We sampled the five-cheese macaroni and it was super. Other variations include wild mushroom and truffle, short rib and blue cheese and vegetable.
It's unlikely you'll have room for dessert, but splurge and perhaps share with fellow diners. The crème brulée and chocolate mousse are above-par examples of these popular dishes.
Fricassée is a BYOB so grab your favorite bottle of Bordeaux and celebrate the return of Mark Papera to Montclair with a visit to what will surely be one of the hottest restaurants in northern New Jersey.
6 Park Street
Montclair, New Jersey 07042
(973) 744-2191
Mon – Sat: 5:00 pm – 10:00 pm