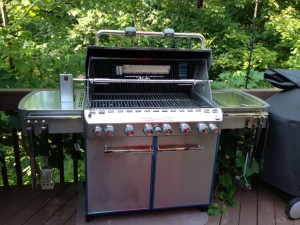 A couple of months ago, I entered the Jacob's Creek Sip & Sizzle Grilling Contest sponsored by Pernod Ricard USA®, LLC. I'm a fan of Jacob's Creek and its wines and have loved my Weber Silver and my Weber charcoal grills so I thought…why not?
Several weeks went by and I was contacted by the folks at Jacob's Creek to let me know I was the Grand Prize Winner of the contest! How cool is that for someone who never wins anything!!?
What is my prize you might ask…a Weber Summit® S-670™ Grill valued at around $2,799.00!!!!!!!! Can you just picture what amazing foods I'll be able to put out using that big, beautiful chrome baby!?
Jacob's Creek's constantly running fab Facebook contests so make sure you 'like' the Jacob's Creek page so you can have a chance to win something amazing like I did….the girl who never USE to wine anything!
To view my most recent reviews of Jacob's Creek wines – CLICK HERE.
Cheers,
Veronique