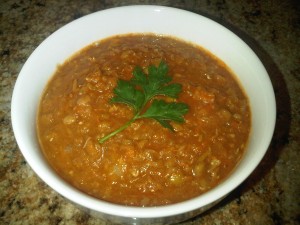 Those of you who know my typical cooking style might be surprised to see a vegetarian recipe on my blog, but this dish is hearty, rich and perfect on a cold winter day – or anytime you're craving a delicious comforting soup.
Ingredients:
3 Tbsp. vegetable oil
1 cup diced heart of celery
2 cups chopped onions
2 garlic cloves, chopped
1 cup diced carrots
½ tsp. each, dried thyme, salt and pepper
32 ounces vegetable broth (homemade or from a carton)
1 ¼ cups lentils, rinsed, drained
1 14 ½ –ounce can stewed tomatoes
Directions:
Heat oil in a large, heavy bottom saucepan over medium–high heat. Add the celery, the onions, the garlic and the carrots. Season with thyme, salt and pepper. Cook until the mixture has softened and has begun to turn golden-brown, about 10-15 minutes.
Add the broth, the lentils, and the tomatoes to the vegetable mixture and bring to a boil. Turn the heat down to medium–low then simmer the soup, covered, for about 45 minutes or until lentils have softened.
Reserve 1 cup of the soup mixture, then working in 2 batches, add the rest of the soup to a blender and puree until smooth, about 30 seconds. ***Be sure to remove the small venting cap from the blender to allow steam to come out and place a kitchen towel to cover the opening. Return the pureed soup to the saucepan, add the reserved un-pureed soup and gently heat for 2 minutes.
To serve, ladle soup into bowls.
Serves 8 as a starter or 6 as a main course.
Note: If you prefer a completely smooth soup, puree all of the mixture without reserving any for texture. Soup freezes well for up to a month.