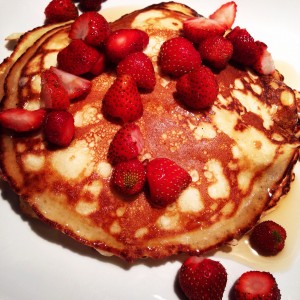 I woke up this morning with pancakes on the brain. I'm usually partial to crepes vs pancakes, but today, after seeing the gorgeous tiny organic strawberries I received in my Bracco Farms CSA box, I wanted pancakes with Quebec maple syrup and strawberries.
This is the simplest pancake recipe of all times with just a few dry ingredients mixed with wet ones easily available at home….no fancy buttermilk, ricotta pancakes….just solid, easy-to-make pancakes the whole family will enjoy.
Ingredients:
1 cup all-purpose flour
2 tsp. baking powder
2 Tbsp. granulated sugar
½ tsp. salt
1 cup whole milk
1 large egg
2 Tbsp. butter, melted
3 Tbsp. vegetable oil
Directions:
In a small bowl, whisk together flour, baking powder, sugar and salt.
In a medium bowl, whisk together milk, egg and butter. Add the dry ingredients in the milk mixture and whisk until just moistened with a few lumps – do not overmix.
Heat a large non-stick skillet or griddle over medium-high heat. Add ½ tablespoon oil and warm for 30 seconds.
Add about ¼ cup batter for each pancake. You should be able to fit 2 pancakes in a large skillet.
Cook until the surface of pancakes has some bubbles and a few have burst, about 1 minute. Flip carefully with a thin spatula, and cook until browned on the second side, about another minute.
Transfer to a plate, cover loosely with aluminum foil to keep warm while cooking the rest of the pancakes.
Continue with more oil and remaining batter.
Serve with berries and pure maple syrup.
Makes 4 servings.
Inspired by this recipe.