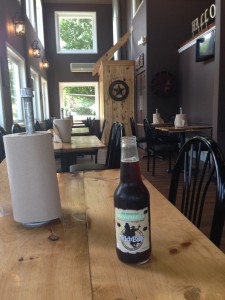 When Jeff Feldstein opted not to renew his Down to the Bone (DTTB) lease in Stanhope, I was crushed. I'd been a huge fan of what Jeff was doing (see previous post) on Lake Lackawanna and was devastated to see the only solid barbecue restaurant in our neck of the woods close down. Would I miss the some of the riffraff that frequented and worked at the popular restaurant? No. Would I miss good barbecue and Jeff's enthusiasm for guest service? Absolutely.
A few weeks ago, what do I see being added to The Clubhouse Gold Center sign? A DTTB sign!!! Jeff's back and even closer to my home (dangerous). He's got a top notch crew and a prime location on Route 10 in Randolph.
I caught up with Jeff when I visited for lunch over the weekend and learned he has a new cook who puts a new spin on DTTB's menu offering with southeast barbecue flavors. We ordered two lunch sandwiches, the Pulled Pork PULL-WICH ($10) and the Jersey Burger ($9). To say the portions are generous would be an understatement. The pulled pork is lightly drizzled with DTTB's Sweet Heat barbecue sauce then topped with a hefty portion of sweet and tangy coleslaw. The sandwich is served on a perfectly-soft Hawaiian roll with handmade seasoned chips. When I asked Jeff if the chips were housemade, he told me "why buy when you can make them in-house way better?" – I agree completely. The burger was also sizeable and since it was the Jersey version, the lean ground beef was topped with Taylor ham and served on a pretzel roll. The burger is juicy and flavorful, a winner.
On our next lunch visit, we'll be sampling the Morning After Burger topped with a sunny side up egg, bacon and potatoes. At Jeff's recommendation, we'll also try the brisket sandwich.
While DTTB is a BYO and guests are welcomed to bring beer or wine, I was introduced to the Wild Bill's Ole Fashioned Soda Pop line of handcrafted sodas while ordering. I opted for the Sarsaparilla flavor and it was outstanding.
I'm looking forward to stopping in for dinner soon to get reacquainted with DTTB's outstanding ribs and barbecue chicken…and yes, the Italian specialties Jeff tells me I must try. I might actually have DTTB deliver to my home as it now offers delivery service.
DTTB offers catering services also, so if you planned a 4th of July party and need grub, give Jeff a ring.
If you're in northern New Jersey, make a point to visit Jeff and the team at DTTB.
Down to the Bone – 1594 Route 10, Randolph, NJ. 973-252-4BBQ.
Cheers,
Veronique