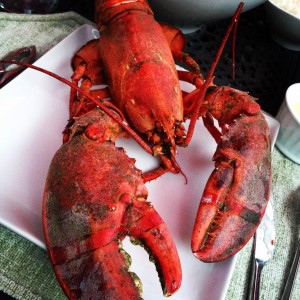 This past weekend, I hosted my annual Lobsterfest on one of the nicest evenings of the season. I must be living well as I got cloudless skies and 75 degree weather.
This year, I started our meal with one of my favorite summer shareable dishes, simply-grilled bread with a spread of sheep's milk ricotta drizzled with good Greek olive oil, red pepper flakes, lemon zest and salt and pepper. It could also be made with farm-fresh cow's milk ricotta. It's light and flavorful – a winning combination.
My starter was a crisp, ice-cold wedge with blue cheese dressing then topped with yellow chopped tomatoes and crispy bacon. While not very original, my guests commented on how great the super cold salad was on a warm evening.
The main course, of course, was Maine lobsters. My guy sets up a giant pot over a propane-fueled burner and we cook the crustaceans outdoor preventing my home from smelling like a seafood market for days – I highly recommend this technique if you can swing it.
I've shared the perfect way to boil lobsters in the past (Lobster Boiling 101), it's an oldie but a goodie. I served my 2 1/2 pound lobsters simply with Basmati rice right out of the steamer and my family's prized Lemon Butter Sauce.
For dessert, and to continue with the Maine theme, I made a Crumb Top Blueberry Pie – what a gorgeous and delicious pie!!! I'll be fixing this again over the summer as it was simply outstanding.
All in all, it was a great summer night spent with dear friends that reminded me a bit of summers spent in Maine during my youth. It's making me look forward to going to the Maine shore in a couple weeks even more.
Cheers,
Veronique