I know this isn't much of a "recipe" since the gelato is store-bought, BUT, this is by far the BEST commercial gelato I've had, so I thought I'd share the wealth (no, I'm not being compensated by Talenti, it's just a great product).
Ingredients: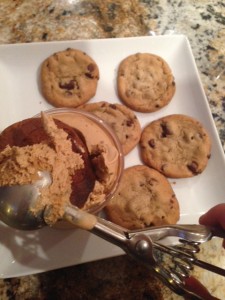 Directions:
15 minutes before assembling, take the gelato out of the freezer and place on a counter to soften slightly.
Using a small ice cream scoop, place two gelato balls on the flat side of a cookie. Top with a second cookie, so the flat side is on the gelato side. Smoosh, technical baking term, the cookies slightly so the gelato spreads across the cookie for a guaranteed bite of cookie/gelato throughout the whole sandwich.
Repeat with the other 3 sandwiches. Place the sandwiches in the freezer in an air-tight container until ready to serve.
Makes 4 sandwiches.