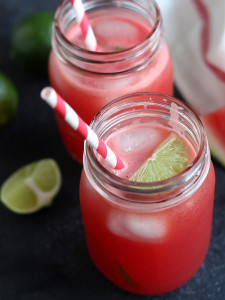 I simply find cold watermelon to be one of the most refreshing things on hot summer days and love to incorporate it in drinks, both alcoholic and not.
In this version of traditional sangria, I use watermelon and some ripe, sweet summer strawberries.
Ingredients:
2 pounds watermelon, ideally seedless, peeled and cut into chunks
10 medium strawberries, stemmed and cored
1 750-ml bottle of dry white wine, Pinot Grigio or Sauvignon Blanc are good options
1 cup Vodka
4 ounces triple sec
4 ounces simple syrup
Lime wedges, optional
Directions:
In a blender, purée the watermelon and strawberries until smooth, about 1 minute. Pass the mixture through a fine sieve and add to a pitcher. Add the white wine, the Vodka, the triple sec and the simple syrup. Stir then refrigerate overnight or at least 4 hours.
When ready to serve, stir the mixture and pour into ice-filled glasses. Garnish with lime wedges, if using.
Cheers,
Veronique