I love really dressing up my table around the holidays. If you're thinking of pulling out grandma's silver or unpacking those formal dishes you received at your wedding, here's how the table should be set for a formal meal: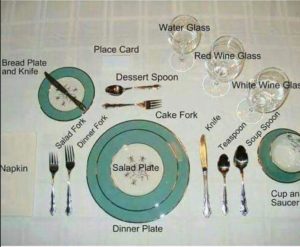 Want a very VIP dinner menu for that special meal? Here's one I love for the holidays:
Sweet Potato Gnocchi in Sage Brown Butter.
Make-Ahead Twice Baked Potatoes.
Fail-Proof Yorkshire Puddings.
Enjoy!
Veronique