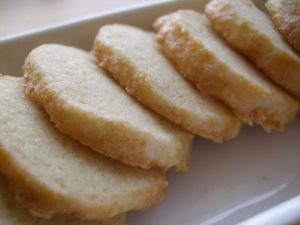 Day 8 of my 12 Days of Christmas Baking compilation.
My guy is Dutch so around the holidays, I try to add a few traditional Dutch recipes into my lineup. These cookies are melt-in-your-mouth yet so ridiculously easy to make.
They remind me a bit of those Danish cookies that come in a blue metallic tin around the holidays – know the ones I mean?
Ingredients:
3 sticks (1 ½ cups) butter, softened
1 1/3 cups granulated sugar plus ½ cup, divided
1 large egg
1 ½ tsp. pure vanilla extract
3 cups sifted all-purpose flour
1 tsp. baking soda
½ tsp. salt
Directions:
In the bowl of an electric mixer, cream the butter and the 1 1/3 cups of sugar until light and fluffy, about 2 minutes. Add the egg and the vanilla then beat for 30 seconds.
In a medium bowl, sift together the flour, baking soda and salt.
Add the dry ingredients to the butter mixture and beat to combine. Chill the dough for 15 minutes.
Preheat oven to 325 degrees.
Using a tablespoon, scoop dough, roll into a small ball then place on ungreased cookie sheets. Repeat with the rest of the dough.
Flour the bottom of a drinking glass then lightly flatten each dough ball.
Sprinkle each cookie with the remaining ½ cup of sugar.
Bake the cookies between 12-15 minutes until light golden brown around edges. Allow to cool for 5 minutes on the cookie sheets then transfer to a wire rack to cool completely.
Yields 5 dozen cookies.