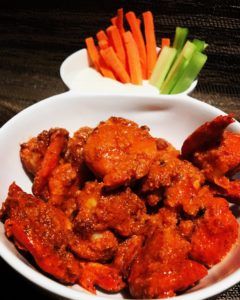 The "big game" is next weekend and I've been trying to come up with a couple appetizers to make while we watch the game. Chicken wings are always a winner, but my all-time favorite Buffalo anything is by far Buffalo shrimp. I know I'm not supposed to like chain restaurants as a discerning foodie, but the Buffalo shrimp at Hooters at the greatest. I've used the breading and Buffalo sauce that my sister's come up with in terms of Hooters wings copycat but simply used large shrimp in place of the chicken.
These are absolutely fabulous with the right amount of heat – tangy but not scorching. Pair these with the typical carrot and celery sticks and a pool of chunky blue cheese dressing.
Don't like seafood? Use chicken tenders! Don't like a heavy saucing like I do (see image below)? Add half the sauce!
Shrimp Marinade Ingredients:
Vegetable oil for frying
1 large egg, beaten
1 Tbsp. yellow mustard
2 tsp. each creole seasoning, garlic powder, onion powder and black pepper
1 pound large deveined peeled shrimp (I used 21-25 count)
Buffalo Sauce Ingredients:
¼ pound butter (1 stick)
1 cup hot sauce (I use Frank's)
1 tsp. garlic powder
2 Tbsp. lemon juice
Coating Ingredients:
1 cup all-purpose flour
1 cup yellow cornmeal
2 tsp. creole seasoning
1 tsp. black pepper
Marinade Directions:
Heat the vegetal oil in a large, heavy saucepan (or use an electric fryer) until deep-fry thermometer reaches 350 degrees.
In a medium bowl, whisk together the egg, mustard and spices to create a thick marinade. Toss the shrimp in the marinade to fully coat and set aside for about 15 minutes.
Buffalo Sauce Directions:
Melt the butter in a small saucepan over high heat. Add the hot sauce, garlic powder and lemon juice – whisk to combine. Pour the hot liquid to a heat-proof bowl.
Coating Directions:
Add all the ingredients to a large ziptop bag, shake well.
Toss the shrimp in the corn flour in the bag to coat well.
Working in batches (I did three batches), shake the excess corn flour coating off the shrimp and carefully place in the hot oil. Cook each batch of shrimp for 4 minutes then drain on paper towels.
Immediately toss shrimp in buffalo sauce.
Serves 4 as appetizer portions.