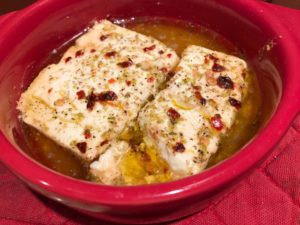 I love any type of baked cheese dip. I'd been fortunate enough to find Dodoni brand Feta cheese at my local grocery store a couple weeks ago and really enjoyed it as part of a Greek salad, but I had a lot left that I wanted to be sure to use.
Since the "big game" was coming up and I'd be doing a bunch of appetizers to munch on during the game, I opted for a baked Feta dip that was out of this world. Note that the cheese gets marinated for 12 hours, so remember to start the day before you want to serve this dish.
The dip would be great with baked pita chips but I served it with toasted baguette slices. You'll want a sturdy vessel to run through the flavored oil created from the marinade and the gooey cheese (video: see what I mean by gooey and perfect).
Ingredients:
1/3 cup extra virgin olive oil
1 tsp. grated lemon zest
½ tsp. red pepper flakes
2 tsp. minced garlic
¼ tsp. black pepper
2 tsp. dried oregano
8 ounces Feta cheese in a block, rinsed (I highly-recommend Dodoni brand if available)
Directions:
In a small bowl, whisk together olive oil, lemon zest, red pepper flakes, garlic, black pepper and dried oregano.
Place Feta cheese in a resealable bag. Pour the marinade over the Feta and allow to marinate overnight, or at least 12 hours, in the refrigerator.
Preheat oven to 375F.
Place the Feta and its marinade in a small baking dish. Bake for 20 minutes, until the Feta is melty and bubbling.
Serve with sliced baguette or baked pita chips.
Yields 6 appetizer portions.
Adapted from this recipe.