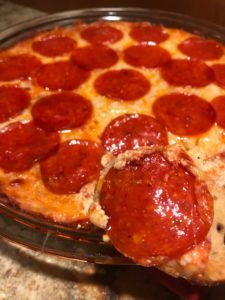 We were just going to order pizza while watching the "big game" since it was just the two of us, but then I decided to make the next best thing – pepperoni pizza dip!!
The dip would be great with potato chips but I served it with toasted baguette slices. You'll want a sturdy vessel to run through all the layers of gooey yumminess (see what I mean by gooey and perfect).
Ingredients:
8-ounce block of cream cheese, softened
½ cup sour cream
½ cup grated Parmesan cheese
1 tsp. dried oregano
¼ tsp. ground black pepper
1 cup pizza sauce
1 ½ cups shredded mozzarella cheese, or Italian blend cheeses
20 slices pepperoni
Toasted baguette slices.
Directions:
Preheat oven to 375 degrees.
In a medium bowl, combine the cream cheese, sour cream, Parmesan cheese, oregano and black pepper. Spread the cream cheese mixture on the bottom of 9″ round pie plate or other baking dish.
Top cheese mixture with the pizza sauce.
Top the sauce layer with the mozzarella cheese.
Top the Mozzarella cheese with the pepperoni slices.
Bake the dip for 25 minutes, until the cheese is melted and the dip is bubbly.
Serve warm with toasted baguette slices.
Yields 8 appetizer portions.
Adapted from this recipe.