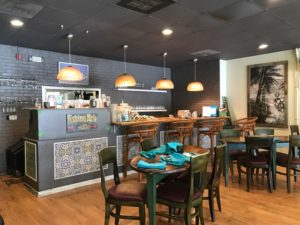 Last week, I was invited to come try Chef Kwame Williams' contemporary Jamaican/Caribbean dishes at Vital Dining in Montclair, NJ. Chef Williams and his sisters/business partners, Nataki and Kanika, provide warm, welcoming hospitality and a menu that's friendly for carnivore, vegan, vegetarian and gluten free diners.
About Chef Williams and Vital
After graduating from the Institute of Culinary Education in New York City, Chef Williams worked at some of NJ's top fine dining establishments: The Ryland Inn, Rat's, The Bernards Inn, Pleasantdale Chateau, Highlawn Pavilion, Hyatt and Minton's in Harlem, NY. He believes that nutritional and healthy food are synonymous with delicious food. The principal of the "Ital" (where the "Vital" name derives) lifestyle is that food at its most natural state is not only the best, but essential to the gaining and maintaining of life's energies. This concept plays a major role in Chef Williams' Caribbean/Jamaican-centric cuisine where everything is made from scratch in house and is always fresh, never frozen.
The Drinks
We visited for lunch so had an opportunity to sample some of the freshly-made drinks. I enjoyed the Sunsplash – a drink made from grapefruit, orange, mango and my guest had the best-selling Vital Lemonade – pineapple, basil, lemonade. Vital also serves various elixirs, smoothies and teas.
The Food
Lunch is comprised of soups, salads and lighter entrées. All are served with a choice of house made chips, okra fries or a side salad.
We started with a newly-added menu item, the Callaloo Dip – callaloo is a green popular in the Caribbean and here it's served in a creamy hot dip fashion with whole wheat chips that are addictive. We also had the Vital Hummus which is cleverly made with black-eyed peas instead of the more typical chickpea and then served with plantain chips.
For my entrée, I had the Jerk Chicken Wrap which was served with an avocado spread, sweet plantains and spinach. I've missed plantains so much since moving away from South Florida so this was a nice treat. I opted for the house made chips which were thin, crispy and delicious. My guest opted for a vegetarian entrée: the Jerk Portabella Mushroom Wrap which came with the avocado spread, mixed greens and tomatoes. She paired her sandwich with the side salad which was fresh and crisp.
Sunday brunch features interesting takes on breakfast favorites – Banana Waffles served with coconut nectar, coconut powder, fresh fruit; Cornmeal Porridge with almond milk and nutmeg; St Mary Breakfast which is scrambled eggs, plantains and callaloo.
I was fortunate enough to secure one of Chef Williams' dessert recipes – Chia Seed Pudding with Rose Petals, and I'm sharing with you so you can enjoy it at home or fall in love with the picture and go visit Vital!
Chia Seed Pudding with Rose Petals
Ingredients:
2 cups coconut milk
½ cup chia seeds
½ teaspoon rose water
¼ cup maple syrup
¼ teaspoon cinnamon powder
¼ teaspoon vanilla extract
1 cup chopped strawberries
Optional: chopped up rose petals for one rose
Garnish with fresh grated nutmeg
Instructions:
Combine all ingredients except chia seeds and strawberries in a bowl. Whisk until maple syrup is completely dissolved.
Add chia seeds pour mixture into a jar or glass container and place in the refrigerator for at least 4 hours or overnight to let gel.
Before serving add chopped strawberries and rose petals, if using.
Finish with grated nutmeg and enjoy.
Makes 4 servings.
Vital is a BYO restaurant.
Vital Dining / 387 Bloomfield Avenue, Montclair, NJ / @vitaldining
Lunch & Dinner 11am-10pm Tues-Thurs / Sun Brunch 11am-3pm
Cheers,
Veronique