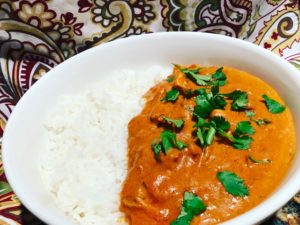 I love Indian food and the deep flavors of the various dishes I've tried thus far. Over the years, I've fine-tuned my recipe for Chicken Tikka Masala that's slow cooked and delicious, but this past weekend, I decided to pull the old Crockpot out of the attic and make this comforting recipe in it. So perfect for a cold winter day!
Nothing could be simpler to make, as long as you have the necessary spices. All are easy to find at local grocery stores, but if you live very remotely, perhaps the Garam Masala might give you a bit of trouble to find. Luckily, there's Amazon to the rescue!
There's just one issue with this recipe – your house will smell intoxicatingly amazing all day long….it's best to make this recipe on a day you'll be out of the house or else you'll be salivating (like we did) most of the day!
If you want to make this vegetarian – simply replace the chicken with a 29-ounce can of rinsed chickpeas!
Long Simmering Ingredients:
2 pounds boneless, skinless chicken thighs, cut into 1½-inch chunks
1 large onion, chopped
4 garlic cloves, minced
2 Tbsp. fresh ginger, minced
1 29-ounce can of tomato purée
2 Tbsp. olive oil
1 Tbsp. Garam Masala
2 tsp. ground cumin
2 tsp. ground coriander
2 tsp. paprika
1 tsp. turmeric
½ tsp. ground cinnamon
½ tsp. cayenne pepper (if you don't love spicy food, make this ¼ tsp.)
½ tsp. ground black pepper
1 tsp. salt
1 Tbsp. granulated sugar
2 bay leaves
Finishing Ingredients:
1 cup heavy cream
2 Tbsp. corn starch
2 Tbsp. lemon juice
Chopped cilantro, optional (could also use flat leaf parsley)
Directions:
Coat the inside of a slow cooker with cooking spray (or rub with olive oil).
In the slow cooker, combine all the "Long Simmering Ingredients" and stir well to coat all the chicken pieces with the spices and tomato puree. Cook on low for 8 hours or on high for 4 hours.
In a bowl, whisk together the cream and the corn starch until smooth. Add to the chicken mixture, stir well to incorporate and cook for 20 minutes.
Add the lemon juice, stir to incorporate.
Serve with Easy Basmati Rice and chopped cilantro, if using.
Makes 6 servings.
Enjoy!
Veronique
Recipe inspired by this.