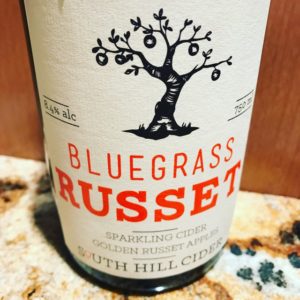 When I was doing winery visits last Fall in the Finger Lakes, I was introduced to South Hill Cider Bluegrass Russet by one of my favorite FLX wineries – Heron Hill Winery. I was intrigued that a winery would carry and sell a cider by what could be considered a competitor, so I decided to try it.
The ciders at South Hill Cider are crafted in small batches by Steve Selin who calls himself "apple-hunter, cidermaker, orchardist". The apples at South Hill Cider come from wild trees, abandoned orchards and orchards of high quality cider apples. South Hill Cider produces ciders with "individuality, quality, and elegance reflecting the terroir of the Finger Lakes region".
The cider I sampled, Bluegrass Russet, is made using a New York state native apple, the Golden Russet. It's a crisp, sparkling, off-dry cider with tons of mousse-ish bubble and lovely acidity. Beyond the apple flavors, there are notes of tart berries that help not create an overly sweet cider, something I don't enjoy.
If you can find this cider, it'll set you back around $18. It's one of the best ciders I've had and worth searching around for it.
Cheers,
Veronique