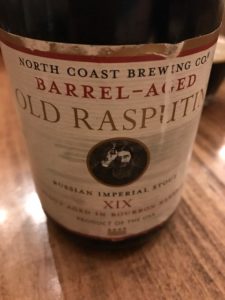 Wow just wow with this big boy. The bourbon flavors aren't over-powering, which I find happens a lot in these types of brews. Rich caramel and chocolate flavors with a hint of vanilla and pumpkin pie spice. Dry, lightly smoky finish. One of the best Imperials I've tasted.
Brewed by: North Coast Brewing Company, Fort Bragg, CA
Style: Bourbon Barrel-Aged Russian Imperial Stout
Alcohol by Volume (ABV): 11.2%
International Bitterness Units (IBU): 38
Color in the Glass: Darkest shade of chocolate with an inch of fizzy tan head.
Format(s): Bottle, on-tap
Ideal Glass: Snifter
Cheers,
Veronique