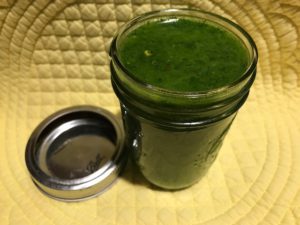 Chimichurri is a traditional Argentinean condiment typically made with parsley and served along with grilled steak. I sometimes make mine with just parsley, but since I love cilantro so much, I often combine the two herbs for a twist on the traditional.
I use chimichurri not only on steak but also on grilled fish, as a condiment on a burger and tossed with vegetables – there are a million uses for this bright, tart sauce. Just throw all the ingredients in a blender or food processor and purée!
Since a little goes a long way with chimichurri, I store leftovers in a canning jar with a tightly-fitting lid in the fridge for up to 10 days. Just be sure to bring the sauce to room temperature before serving if storing in the fridge as the oil will set and the whole thing will be solid until it warms up.
Ingredients:
2 large garlic cloves, chopped
2 Tbsp. diced red onion
1 cup flat leaf parsley leaves (no stems)
1 cup cilantro leaves (no stems)
¾ cup olive oil
Juice of half a lemon
3 Tbsp. red wine vinegar
1 tsp. salt
½ tsp. black pepper
½ tsp. red pepper flakes
Directions:
Place all the ingredients in a blender or a food processor and purée until mostly smooth, about 30 seconds.
8 servings (3 Tbsp. per serving).
Cheers,
Veronique