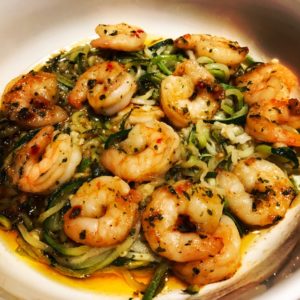 Yes, I'm officially on the zoodles bandwagon. Not familiar with zoodles? They're made by spiralizing vegetables and using as you would pasta. Many grocery stores even have already-prepared zoodle packages in the produce department – mine does. Zoodles are a good way to reduce carbohydrates intake, thus reducing high blood sugar – it's why they grace my fridge every week instead of perfectly-cooked pasta.
In this dish, I've made a 'standard' scampi recipe and topped sautéed zucchini zoodles with it. It's very tasty and I almost forgot I wasn't eating delicious, starchy, al dente pasta (yeah, right LOL).
I know many don't believe in cheese over fish/seafood but, what the heck, if it tastes good, use it!
Ingredients:
1 tsp. vegetable oil
4 cups zucchini zoodles
Pinch of salt and pepper for the zoodles
1 stick of butter (8 Tbsp. or ½ cup)
2 large or 3 small garlic cloves, minced
1 pound of medium shrimp, shelled, deveined and tails removed
½ tsp. each salt, black pepper and red pepper flakes
Juice of 1 lemon
1 Tbsp. chopped flat leaf parsley (optional)
2 Tbsp. grated Parmesan cheese (optional, purist, just omit)
Directions:
In a large sauté pan over medium-high heat, warm the oil. Add the zoodles and the pinch of salt and pepper and cook for 5 minutes, stirring occasionally so they don't stick to the pan. Set aside with a lid on the pan.
In a large sauté pan over medium-high heat, melt the butter. Add the garlic and cook for 1 minute, stirring to prevent scorching. Add the shrimp, salt, black pepper and red pepper flakes and cook for 5 minutes, turning the shrimps periodically. Add the lemon and toss one last time.
Divide the zoodles between two serving bowls, top with the buttery, garlic shrimp and sprinkle each bowl with parsley and cheese (if using).
Serves two.
Cheers,
Veronique