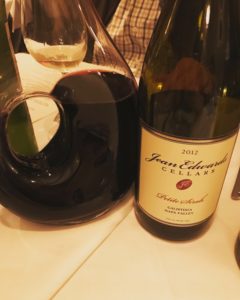 I decanted this California Petite Sirah for 45 minutes before drinking, drank it over 60 minutes and it opened up beautifully.
Looks: Darkest purple in the glass.
Smell: Dark fruit/berries with some peppery notes on the nose.
Taste: Blackberry flavors with plum, tobacco and leather notes.
Texture and Finish: Well-structured, balanced and elegant. Long finish with peppery notes.
This is still a young wine but delicious after some decanting. This proves once again that there's not a bad Jean Edwards Cellars wine to be had.
Pairings: Beef short ribs, roasted lamb, grilled steaks.
Style: Red Wine
Grape Type(s): Petite Sirah
Region: Calistoga, Napa Valley, California, USA
Price: $35