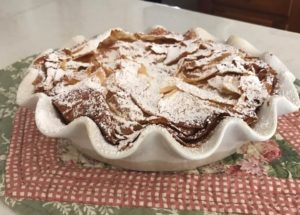 My friend Linda posted this gorgeous pie photo on Facebook that she made for Easter that I'm glad she shared the recipe for with all of us! I love phyllo dough so this recipe called my name. She uses extra powdered sugar, so have to love that!
Ingredients:
1 cup powdered sugar, plus extra for garnish
3 large eggs
1½ tsp. pure vanilla extract
½ tsp. orange extract
Zest of 1 orange, about 1 Tbsp.
1 (15-­ounce) container whole milk ricotta cheese
½ cup cooked short­-grain rice, like arborio
1/3 cup toasted pine nuts
10 sheets fresh phyllo sheets or frozen, thawed
¾ stick (3 ounces) unsalted butter, melted
Directions:
Preheat the oven to 375 degrees F.
Blend 1 cup of powdered sugar, eggs, vanilla, orange extract, orange zest and ricotta in a food processor until smooth. Stir in the cooked rice and pine nuts. Set the ricotta mixture aside.
Lightly butter a 9-inch glass pie dish. Lay 1 phyllo sheet over the bottom and up the sides of the dish, allowing the phyllo to hang over the sides. Brush the phyllo with the melted butter. Top with a second sheet of phyllo dough, laying it in the opposite direction as the first phyllo sheet. Continue layering the remaining sheets of phyllo, alternating after each layer and buttering each sheet. Spoon the ricotta mixture into the dish. Fold the overhanging phyllo dough over the top of the filling to enclose it completely. Brush with the remaining melted butter.
Place the pie plate on a cookie sheet to catch any drips and bake the pie until the phyllo is golden brown and the filling is set, about 45 minutes (if golden brown after 35-40 minutes, remove from the oven). Transfer the pie to a cooling rack and cool completely. Sift the reserved powdered sugar over the pie and serve.
Serves 8.
Recipe adapted from this Giada De Laurentiis recipe.