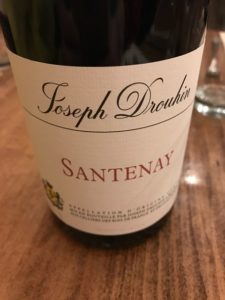 Brought this lovely Pinot Noir to my favorite gourmet pizzeria in anticipation of having forest mushroom pizza and it was a stellar pairing.
Looks: Deep ruby in the glass.
Smell: Wild strawberries with some earthy notes on the nose.
Taste: Raspberry and cherry flavors with woodsy notes.
Texture and Finish: Round, nicely-balanced with medium tannins and medium finish.
Young wine but very drinkable and enjoyable Burgundy. Good price point.
Pairings: Mushroom-based dishes, roasted/grilled salmon, pork, turkey.
Style: Red Wine
Grape Type(s): Pinot Noir
Region: Cote de Beaune, Burgundy, France
Price: $29