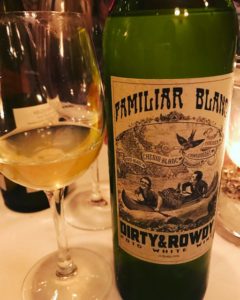 Check out the cloudiness of this baby in my photo – crazy stuff! Kitchen sink blend of aromas and flavors.
Looks: Deep ruby in the glass.
Smell: Citrus, floral and dried apricot on the nose. What isn't on the nose would be a better question!
Taste: Lemon lime flavors with hints of under-ride pear.
Texture and Finish: Crazy nice minerality and acidity with a medium finish.
I love these wines. This is the third vintage I buy and I continue to get sucked into the hype. Drink cool, not cold or you'll lose all the crazy flavors.
Pairings: Fried chicken, grilled fish, seafood risotto.
Style: White Wine
Grape Type(s): 28% Chenin Blanc, 22% Pinot Blanc, 18% Chardonnay, 12% Melon, 10% Roussanne, 10% Viognier.
Region: Mendocino, Monterrey, and El Dorado Counties, California, USA
Price: $30
Fun Fact: Bottle is sealed with a NomaCorc Select Bio closure. It is a plant based, carbon neutral, breathable, recyclable, cork alternative.