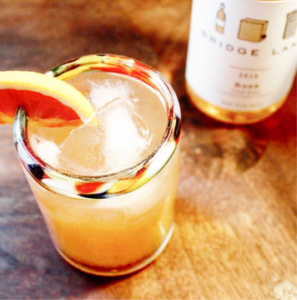 I love refreshing cocktails and am always looking for fun, easy-to-make recipes for summer parties. The nice folks at Bridge Lane Wine posted this neat recipe and photo on their Instagram account and agreed to let me share it with you. Blood orange and rosé wine – what's not to love!?
Ingredients:
3 Tbsp. lemon juice
1 Tbsp. sugar
1 cup water
¼ cup Bridge Lane Rosé
¼ cup blood orange juice
Orange slice for garnish
Directions:
Stir together all the ingredients, except the orange slice, and pour into a tall glass then top with crushed ice.
Garnish with orange slice.
Cheers,
Veronique