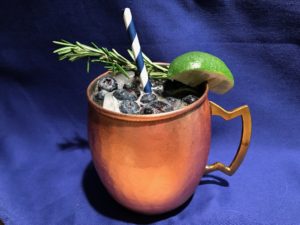 I'm not one to turn down a Moscow Mule, a drink typically made using ginger beer and Vodka. Last summer, when I was to host a Greek-themed party, I opted to create a Greek Mule, simply replacing the Vodka with Ouzo, the famed licorice-flavored liquor of Greece. The drink was delicious and refreshing and my guests raved about it.
When the fine folks at Wish Farms announced that as part of the Food Wine Conference, they were running a berry-centric cocktail contest, I knew I had to enter with an exclusive drink: Blueberry & Rosemary Greek Mule.
This drink is very simple to make and looks amazing served in copper Mule cups. I use both Ouzo and Vodka instead of just Ouzo to tone down the licorice flavor for those who aren't fans.
Ingredients
¼ cup fresh Wish Farms blueberries, divided
1 Tbsp. simple syrup
1 Tbsp. fresh lime juice
4 ounces ginger beer
1 ounce good quality Vodka, I'm partial to Tito's
1 ounce Ouzo
Sprig of rosemary for garnish
Lime wedge for garnish, optional
Instructions
In a tall glass or canning jar, muddle about 1 tablespoon of fresh blueberries with the simple syrup and the lime juice.
Add the ginger beer, the Vodka and the Ouzo to the muddled berries and stir to combine.
Add ice to a mule cup and the remaining blueberries then pour the drink over the ice.
Garnish with a sprig of rosemary, and with a wedge of lime, if using.
Makes one cocktail.
Cheers,
Veronique