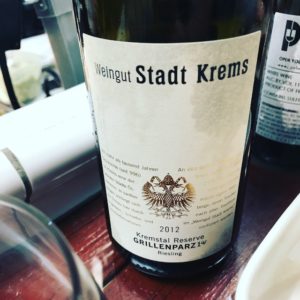 Friend shared this bottle with me over oysters and fish. Love this style wine and never a bad bottle by this producer.
Looks: Greenish yellow in the glass.
Smell: Citrus/Meyer lemon and juicy peach on the nose.
Taste: Delicious lemon/lime flavors with some wet stones notes.
Texture and Finish: Rich yet light. Crazy nice minerality and acidity with a long finish.
Pairings: Oysters/shellfish, grilled fish, seafood risotto.
Style: White Wine
Grape Type(s): Riesling
Region: Kremstal, Austria
Price: $30