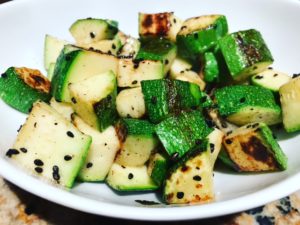 This is the fourth post in my new series called "Not Really a Recipe". These will be non-recipe posts that just give ideas on how to fix meals that are tasty and require very little work.
I make zucchini as a side dish all the time. I like how fast zucchini cooks and that it has good texture when the outer skin isn't removed.
One of my favorite way to make a fast side dish to pair with my lunches is a quick sauté of diced zucchini. This helps me get my extra serving of vegetables in and it'd darn tasty.
Simple dice a zucchini, sauté it in a teaspoon of vegetable oil either in a screaming hot wok, a frying pan or a cast iron pan with a healthy pinch of salt and pepper for about 3 minutes, stirring or shaking the pan to avoid burning. Once cook, add a teaspoon of sesame oil and a half teaspoon of black sesame seeds and toss to coat. I sometimes also make this on the grill using a grill pan!
As the title of this post says, this isn't really a recipe, it's just a tasty way to change up the way you cook this inexpensive and tasty veggie.
Cheers,
Veronique