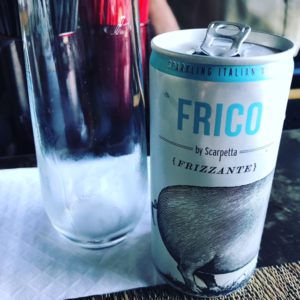 I was in Providence, RI for the holiday weekend and was served this fun bubbly at Slow Rhode. I admit I'm always a bit suspicious of wine served in vessels other than bottles, but this was nice. No metallic after taste, good bubbles, light, and refreshing. Think Prosecco but a little lighter on the amount of bubbles.
Looks: Palest of yellow in the glass with tiny bubbles.
Smell: Apple aromas with faint floral notes.
Taste: Apple flavors with a dry, crisp finish.
Texture and Finish: Crazy nice minerality and acidity with a medium finish.
I had this bubbly from Italy as an aperitif but enjoyed it so much that I paired a second can with roasted sunchokes and pan seared squid. I just ordered four, six-packs to take to the beach with us!
Pairings: Fried chicken, grilled fish, seafood.
Style: Sparkling Wine
Grape Type(s): Trebbiano, Glera, Chardonnay
Region: Mendocino, Monterrey, and El Dorado Counties, California, USA
Price: $3.99 for a 187 ml (6-ounce) can