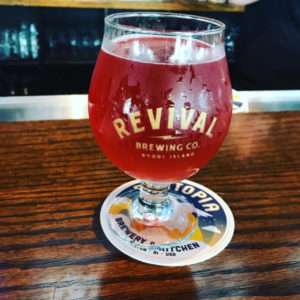 We lunched at Brutopia in Cranston, RI on the way to Providence because we knew it pours Revival Brewing Company beers. Our favorite of the lineup was the Pinky Swear sour.
Pinky Swear is a Berliner Weisse-style beer with big sour and tangy flavors. It's made using 300 pounds of blueberries and raspberries.
Brewed by: Revival Brewing Company, Providence, RI
Style: Berliner Weissbier
Alcohol by Volume (ABV): 3.7%
International Bitterness Units (IBU): 12
Color in the Glass: Bright dark pink with very little head (at least on tap).
Format(s): Tallboy cans, on-tap
Ideal Glass: Goblet or Chalice
Cheers,
Veronique