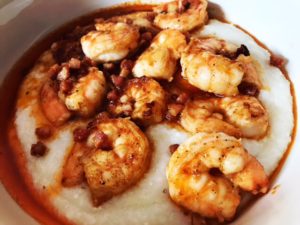 I returned from being on the road for work for nearly a week and the first thing I did when I got home was to get in the kitchen to fix myself some lunch! I miss my kitchen when I'm away (yeah, I know, rough life eating at top restaurants and getting room service) – eating out gets old fast!
Today when I got back from Boston (such a great food town by the way), I made myself a comforting bowl of grits topped with spicy sautéed shrimps. Such yumminess and comfort in a bowl.
I used my Easy Cheesy White Grits recipe and topped that deliciousness with buttery, spicy sauteed shrimps – fabulous!
Ingredients:
3 Tbsp. butter
4 bacon strips, finely chopped OR ¼ cup finely diced pancetta
1 garlic clove, finely minced
2 Tbsp. hot sauce, I used Frank's Red Hot
12 large shrimps, peeled and deveined, tails removed
Easy Cheesy White Grits recipe
Directions:
In a large sauté pan over medium-high heat, melt the butter.
Add the bacon or pancetta to the butter and sauté for 3-4 minutes, until just browned.
Add the garlic to the bacon and cook for a minute, stirring frequently.
Add the hot sauce to the buttery mixture and stir to combine all the ingredients.
Add the shrimps and sauté until cooked, about 2 minutes per side.
Divide the grits between two bowls and top with the shrimps and the sauce.
Makes two servings.