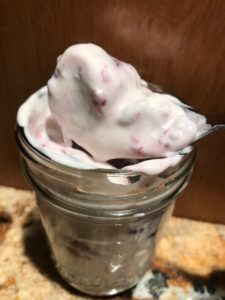 My mom shared this super easy-yet-delicious recipe with me last week and, I agree, it's a winner. It uses three ingredients, takes mere moments to make and is a great way to use fresh berries when in season. Alternatively, I've also tried making this recipe with thawed frozen whole berries and it was great. If using thawed, frozen berries, just be sure to rinse them and dry them using paper towels.
Ingredients:
8-ounce package of cream cheese, softened
½ cup vanilla coffee creamer, I opted for Califia Farms Almond Milk Vanilla Creamer
2 cups berries, any combination works
Directions:
Add the softened cream cheese to the bowl of an electric mixer and beat for 2 minutes until light and fluffy.
Add the creamer and beat for another minute until fully incorporated.
Using a rubber spatula, gently incorporate the berries to the cream cheese mixture. Place in glass serving cups. I like to use small mason jars.
Makes six servings.